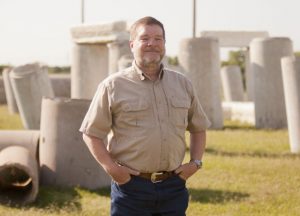 by Adrian McCandless, Contributing Writer
Taking kids to the park can take on a whole other meaning when talking about DFW Adventure Park in Northlake.
The park, which covers more than 170-acres of creek-lined terrain– and claims to have the largest paintball field in the southwest– is not the run-of-the-mill park. Instead, it boasts attractions such as paintball, zip-lining, skeet shooting and more.
Larry Lipscomb, who served as mayor of Flower Mound from 1992 to 1998, has owned DFW Adventure Park for 25-years and has seen it grow into the business it is today.
"It's not just paintball anymore," said Lipscomb, adding that the idea for the park spurred from a conversation, which eventually turned into a business venture.
"I was actually at a dinner party with some friends of mine, who had done this [paintball] as a corporate outing. They talked about how much fun they had doing it," he said.
The group of friends decided to have some fun.
"At that party, we [decided to] set-up a [field] on a friend of ours land– which was about 100-acres– and we had a few hundred people out there," Lipscomb remembered. "We hired people to bring in the games. We had such a blast doing it that we thought, 'hey, we ought to do this for business and fun.'"
That success led Lipscomb to open the original spot in Flower Mound.
"We operated in Flower Mound, near Garden Ridge and FM 3040 – it's all houses now but that was one of the best paintball fields in Texas at the time."
After nine-years of leasing in Flower Mound, Lipscomb moved the operation to Northlake at 13055 Cleveland Gibbs Road.
"We found this land near Roanoke and we purchased this and came over here in 2002 and been here ever since," he said.
Molly Horrigan, manager of DFW Adventure Park, shared that the park offers many family-friendly options and would be a perfect way to celebrate with Dads this Father's Day.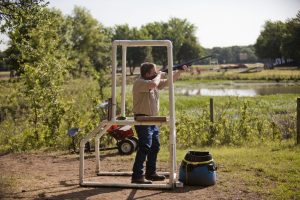 "They have one-on-one time with their kids doing something they all can do together and enjoy," she said. "It's one of those things, if they've never been out here and done paintball or anything, it is something new to try."
She added that often the activities become something they enjoy as a family and come back. Additional features include trap, sporting clays, airsoft, The Great Obstacle Race, Laser Combat and a team-building challenge course.
"The team building is designed specifically for each group; no one has the same team building activities in it," she said. "Our facilitator calls the people and finds out what they're looking for, whether it's communication or trust – or whatever it is – he designs the activities specifically for that individual group."
The park is open to the public Saturdays from 9 a.m. to 6 p.m. and Sundays from noon to 5 p.m. or by appointment. Throughout the week, the park books private reservations and corporate events. Paintball is open-play for participants 10-years or older. All other attractions are by reservation, Horrigan added.
"We have Splatmaster, which is for the younger kids which we do private groups for," she said. "The younger ones can play with a Nerf-style paintball gun."
Lipscomb added they also are a host site for mud runs and zombie shoots.
"In the fall, leading up to Halloween, we have a zombie shoot that we do," he said. "We've got some big army trucks and we have paintball guns mounted on it and we go down and shoot 'zombies.'"
Overall, they try to provide the best experience for their customers. The business is always open to new opportunities and giving the clients the very best, Lipscomb added.
"From the time they step on to the property to the minute they leave, we want them to be smiling and want them to come back," he said. "We just try to be bigger and better all the time."
Visit DFW Adventure Park at dfwap.com or call 817-854-0085.