The Copper Canyon Town Council will hold a public hearing and take action on a proposed 291-home development Monday night.
Toll Brothers filed an application with the town to develop a gated community called Vickery Park south of FM 407 in the designated Town Center zone, according to Mayor Sue Tejml. The developer and homebuilder is requesting the town remove the office designation from the 88-acre portion of Town Center and have it consist only of single-family residential use, as well as density be increased to 3.5 units per gross acre.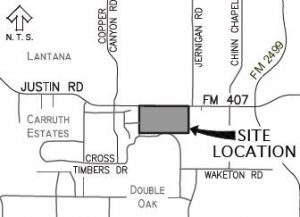 Toll Brothers plans to reserve 20 percent of the 88 acres for green space, and another 20 percent will be taken by streets, so the net buildable acreage would be 56 acres for 291 homes, a density of five homes per net acre but 3.3 homes per gross acre.
Nearly 300 new homes would cause a substantial population increase for Copper Canyon, which has an estimated population of about 1,400 people and has a little more than 500 homes.
Copper Canyon's Planning & Zoning Commission unanimously recommended denial of the request last week. The Town Council will conduct a public hearing at its meeting, which begins at 7 p.m. Monday. Doug Powell, the planning consultant, will give a presentation, as will Toll Brothers, before residents will be able to address council about the request. Council will then take action on the item.