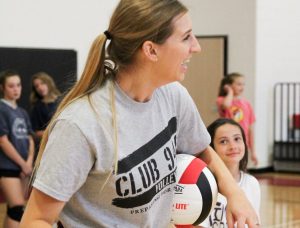 At Club 940 Volleyball, athletes learn life-skills in addition to sports-skills.
Athletes ages 8U to 18U are instructed in the skills needed to become successful volleyball players from foundation to the most selective competition, while also learning humility, compassion and leadership through serving their communities.
"Volleyball has been a passion of mine," said Club 940 owner, Jennifer Homeyer, an Argyle mother of three and owner of two other successful local businesses. "I played all through high school and at the college level. Team sports has been invaluable to me in all the roles I play in life. I want these values to be something we teach our athletes."
The Club's mission is to advance the intrinsic values of the individual to achieve optimum performance as an athlete, team and community member.
"We believe that being a team player helps you in all sorts of ways, from conflict management to strategy and so forth," Director of Marketing and Outreach Kathryn Flores said.
The organization includes a "Master Coach Philosophy," which allows Club 940 Master Coach, Jeff Huebner, to create a skill-appropriate curriculum for its athletes.
This curriculum will be implemented by the Club 940 coaching staff.
Huebner– who was a former American Volleyball Coaches Association (AVCA) Top 30 Coach Under 30 recipient, plus AVCA Region Coach of the Year and Southern States Athletic Conference Coach of the Year– leads a coaching staff including Club Director Kristinn Holbrooks, who has coached both high school and club volleyball and played at the college level.
Club 940 will eventually become a multi-sport organization, with a model that grows each child, in each sport, with experienced coaching in place to aid in college recruitment.
The organization understands that club volleyball is a commitment of time, effort and finances. Although the program focuses on athletes, Club 940 is dedicated to communicating effectively and collaboratively with the parents, making everyone a part of the team.
Club 940 is open to athletes of all skill levels, of all areas and has already hosted its first clinic with more than 130 participants.
For more information, visit Club 940 Volleyball on Facebook, @940vb on Twitter or contact Kristinn Holbrooks at:  [email protected] or 682-509-1277.