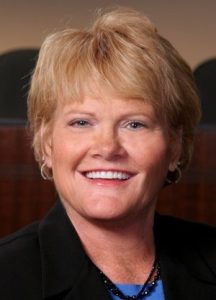 I want to start this month's article with a big thank you to our residents for your support and continued confidence in my service as your Mayor. I am very grateful I have the opportunity to be the City's ambassador because I absolutely love Highland Village, all of our residents and staff, and what we are doing as a City. I was able to be at City Hall during early voting and on Election Day to talk with our residents as they came to vote. I was not surprised to learn most of you love Highland Village as much as I do! I appreciate your faith in me; I will continue to do my best to meet your expectations.
Of course this year I again had my selfie stick in hand to snap photos with all who came to vote. These pictures always serve as a reminder to me that I represent the people of Highland Village and they are a reminder of your support. I was not the only candidate at City Hall during early voting and on Election Day. We had five candidates vying for Place 2 and two for Place 4. One of my favorites was all the candidates together during the morning hours on Election Day. It was a perfect example of how we operate in Highland Village We were all smiling and getting along. I shared that Highland Village was the friendliest polling location in Denton County. We may have differing opinions and goals, but we treat each other with respect and as friends.
We have two new members coming on the Council; Robert A. Fiester and Jon Kixmiller. We thought we were going to have a run-off election for Place 4, but one candidate withdrew and Jon Kixmiller has been declared the winner. I welcome them to the Council and look forward to working with both of these individuals.
Other big news to share is the City has contracted with Community Waste Disposal (CWD) for solid waste services in Highland Village. The current contract with Waste Management expires in August 31, 2018 and the new service will begin on September 3. In December 2017 the City requested proposals from qualified vendors and, based on a specific set of criteria, selected Community Waste Disposal. The five-year contract with CWD provides enhanced service over the current solid waste contract. Many of the enhancements include the services are residents have requested like increasing the size of the recycling cart or keeping the existing cart, collection of up to one cubic yard of recycling outside of the cart, and the collection of large brush and bulky items twice a month without the need to call and schedule. The monthly fee is $16.24 for residents and $14.65 for senior citizens, which is the lowest fee of the submitted proposals. I encourage our residents to watch their utility bill insert, the City website, the City's Facebook page and Nextdoor posts from the City for information on the collection schedule, distribution of recycling carts and all necessary information to allow for a smooth transition.
School will be out soon and many of you are heading out of town on vacation. Remember to take advantage of the HVPD Vacation Watch program so you can head out of town knowing our police will check on your house on a regular basis. Just go to the city website and fill out the online vacation watch form. We have another unique and special program for our residents – the Special Treatment and Response or STAR Program. This is a voluntary program to provide first responders important information about yourself or a family member in case of an emergency. The type of information helpful for first responders is medical conditions or special situations such as Hospice, DNR orders, Alzheimer's, hearing or site impaired, Autism or any special needs. If first responders are called to your home, dispatch will give them the information you provided to help them. It is programs like these that make Highland Village a desired community and one of the best places to live in Texas.
The beginning of summer also marks the beginning of the budget process for the City. The City budget goes into effect on October 1, and because of required public hearing dates, the budget is nearly complete by mid-August. City staff, the city manager, council members and I meet in June to receive and review the proposed budget for each department. I have participated in this process before and find it extremely beneficial to understand what is needed to provide the level of service expected by our residents. Highland Village city staff look for every way they can provide the best service at the lowest cost to our residents.
I encourage you to take an active role in our City. An excellent way to do that is to serve on a board or commission. We are currently taking applications from residents interested in volunteering their time to the City. All the details and application are available on the City website under Boards and Commissions. I hope you will consider serving our City; I can tell you it is a rewarding experience!
I hope that you will take time this summer to enjoy the activities and events available in Highland Village. Our parks and recreation department hosts a great Kids Kamp for the kiddos. Pilot Knoll Park is a fun place for a family reunion or a birthday party. You can take the weekend and camp at Pilot Knoll Park or spend the day and rent a kayak or take stand up paddle boarding lessons. Doubletree Ranch Park is a beautiful park and a great place to take the kids to enjoy the splash pad or walk the nearly one mile trail system. As always, there is much to do with the family in Highland Village.
As I close, let me say again how much I value your support and faith in me. I made a commitment to serve this community and I will continue to always approach every issue with the question, "how will this benefit the residents." Thank you for making our city a wonderful place to call home!