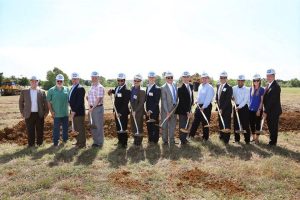 PPG Paints broke ground Tuesday on a nearly 450,000-square-foot distribution center in the Lakeside area of Flower Mound.
The facility, 1001 Lakeside Parkway, will be the largest distribution center for architectural paints and coatings in PPG's U.S. and Canada network, according to a news release, and it is expected to be completed in May 2019.
PPG is consolidating operations from its Carrollton, Lewisville and Houston distribution centers into the new Flower Mound facility, which involves job transfers from current locations to the new site.
"The new facility will continue to grow the presence of PPG in the Dallas-Fort Worth area and allow for even greater efficiency in serving our customers in the Southwest U.S. region," said Dave Cole, PPG vice president, architectural coatings, U.S. and Canada.
PPG recently invested approximately $9 million to open 14 stores in the Dallas-Fort Worth area, bringing the total to nearly 40 PPG Paints stores in the region. PPG's architectural coatings business employs nearly 900 people in Texas, and the company also supports local industry-relevant science, technology, engineering and math training and education initiatives through the PPG Foundation.
"At PPG, meeting our customers' needs is our top priority, which is why we are opening the Flower Mound facility to offer faster, efficient service to a number of national accounts, company-owned stores, and independent retailers throughout the southwest U.S.," said Don Donatelli, director of distribution and logistics for PPG's architectural coatings business. "Flower Mound is also a mid-way point for the other facilities PPG is consolidating operations from in the area."