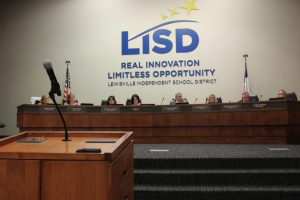 The Lewisville ISD Board of Trustees brought the school year to a dramatic end Monday night June 4, full of impassioned pleas for school safety and last-minute motion changes from the dais.
After much discussion, the board approved a 2 percent raise for most school employees and a 3 percent raise for instructional support staff, who are hit harder by recent insurance changes. The board also approved a stipend for Hedrick Elementary School staff to remain in the campus' final year, the payout for which should total about $99,000.
Click here for the full story by the Lewisville Texan Journal.