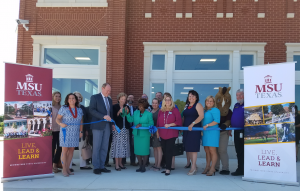 Midwestern State University's Flower Mound campus is now open.
The new MSU campus held a ribbon-cutting Wednesday morning with Denton County officials, town officials and administrators from MSU and North Central Texas College.
Sitting at the east end of Parker Square on FM 1171, the 30,000-square-foot, two-story building will house classrooms, two science laboratories, a combination laboratory and lecture classroom, three interactive television classrooms and two seminar classrooms. Online classes began last fall.
The facility also will have tutoring and study space, administrative and faculty offices, a bookstore and a conference room that will be available for community use.
The space will be shared with North Central Texas College, along with the bookstore and tutoring center. NCTC will also teach classes and house faculty and staff in the new facility. NCTC already has an established campus in Parker Square that opened in January 2011 and serves over 2,000 students.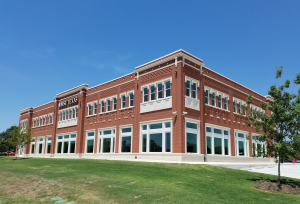 The two schools, which share founder Randolph Lee Clark, will allow students to earn an associate's degree and then move on to earn a baccalaureate degree on the same campus.
Currently, the Flower Mound campus offers classes in: Bachelor of Applied Arts & Sciences; Elementary/Middle School Education; Nursing (RN to BSN); Radiologic Sciences (RT to BSRS); Respiratory Care (RRT to BSRC), and a Master in Business Administration (MBA).
Unlike its main campus in Wichita Falls and its NCTC counterpart in Parker Square, the Flower Mound campus is targeting adult learners and place-bound students.
MSU was established in 1922 in Wichita Falls. It's one of four independent public universities in Texas unaffiliated with a state public university system.