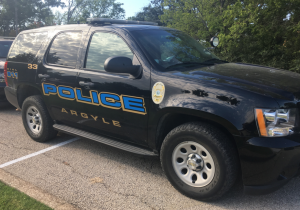 The Argyle Police Department is hiring for two new patrol officers.
The police department has undergone some changes in the past few months. Chief Tom Tackett retired and Captain Temple Cottle was named his replacement. Two officers, Daniel Rounsavall and Tony Segura, were promoted to the rank of Sergeant.
Soon after Cottle's promotion, the department announced that it was hiring for a new officer, but it is now seeking two new patrol officers. Cottle said the second position was created because the town is anticipating growth. When the two hires are made, there will be 11 law enforcement officers in the Argyle Police Department.
Cottle said the department is seeking applications from people with and without police experience. Applicants without experience would need to go through a police academy if hired.
"The door's wide open," he said.
Starting annual salary for Argyle police officers is more than $53,000.
Click here for more information, including the application.