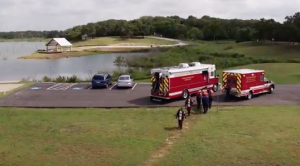 The man who was pulled out from Lake Grapevine by a dive team on Mother's Day died about three weeks later, according to the Tarrant County Medical Examiner's office.
Grapevine Fire Department crews were dispatched just after noon May 13 to Rockledge Park for a possible drowning, said GFD Assistant Chief John Sherwood. A group of people were celebrating Mother's Day at the park and some were swimming when a young man didn't resurface. He wasn't wearing a life jacket.
Grapevine and Flower Mound search boats were already on the north side of the lake — searching for a man who jumped or fell in the lake the day before and didn't resurface — and they hurried over to the "last seen point" off the Rockledge Park shore.

The dive team entered the water quickly and recovered the victim about 20 minutes after the initial call came in, Sherwood said.
The victim was rushed to Baylor Scott & White Medical Center in Grapevine in critical condition. Jose Guerra, 26, of Dallas, remained in the hospital ICU until he died Monday evening, according to the medical examiner's report.