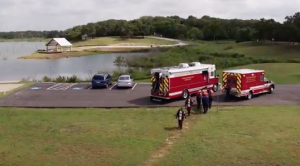 First responders located the body of a man in Grapevine Lake about 25 hours after the search began.
Investigators said a man about 40 years old was on a pontoon boat about 2:30 p.m. Saturday with his friends when he either jumped or fell into the water and did not resurface. He was not wearing a life jacket.
Crews from the Flower Mound Fire Department, Grapevine Police Department, Grapevine Dive Team and the Texas Game Warden assisted with the search, which resumed Sunday morning. The man's body was found about 3:30 p.m. Sunday, close to where he went missing, in the north side of the lake near Bolo Point off of High Road in Flower Mound, according to Brandon Barth, a spokesman for the Flower Mound Fire Department.
The man's identity had not been released by the Tarrant County Medical Examiner's Office as of 6 p.m. Sunday.