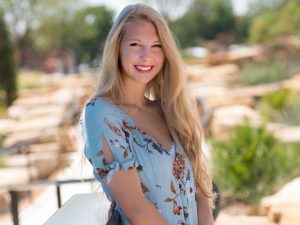 For many high school students, cheerleading is a great way to be involved, show school spirit and inform potential colleges of participation in extracurricular activities.
For Morgan Russell, it has been much, much more than that.
The Flower Mound High School senior is headed to Baylor University in the fall where she plans to study anthropology. She added that, for her, cheerleading in high school was a way to fit in.
"My dad is in the military and, because of his deployments, I moved multiple times in my childhood," Russell said. "By the time I moved to Texas, I was becoming increasingly introverted, because of all the moving. My biggest challenge was stepping outside of my comfort zone in social interactions. Through cheerleading and high school in general, I was able to gain confidence in myself and grew to love meeting new people."
Russell, 17, has been a member of the school's cheer team for four years, where she was voted Junior Varsity Captain her sophomore year and Varsity Captain as a senior.
The Flower Mound teen also takes five AP classes and plays viola in the school orchestra.
"I can honestly say I am rarely bored, because I always have something going on," Russell said. "Being in cheerleading and orchestra allows me to have a wide-range of experiences and I am so grateful for the friendships each program has given me."
Russell is also a member of the National Honor Society at Flower Mound High School and carries a 3.9649-grade-point-average on a scale of four. She is ranked 29th in her graduating class of 953 students and said that when she grows up she already has a pretty good idea about what she would like to do for a career.
"I have been thinking about majoring in either Cultural Anthropology or Architecture," Russell said. "I have a love for history and working in a museum is a dream of mine."
Russell's Favorites:
Favorite subject: History
Person that most inspires you: My English teacher, Mr. Werts
Favorite food: Thai food
Favorite movie: "Planet of the Apes"
Favorite TV show: "Portlandia"
Last Book I read: "Slaughterhouse-Five" by Kurt Vonnegut
Favorite performer: Jimi Hendrix or Led Zeppelin
Nominate your favorite student for this monthly feature brought to you by Texas Health Presbyterian Hospital Flower Mound by emailing [email protected].