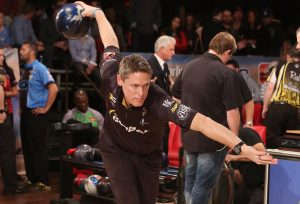 In most sports, athletes must wait at least five years after retiring before being eligible to be considered for halls of fame. Not so in bowling, where successful competitors still reign.
Double Oak's Chris Barnes is a prime example, after the 48-year-old was inducted into the Professional Bowlers Association Hall of Fame in February. The accolade came during a special ceremony at the Marriott North in Indianapolis, as part of the organization's 60th Anniversary celebration.
Barnes learned of his election last fall, when Chief Executive Officer and Commissioner Tom Clark called with the news. Since the makeup of the PBA Hall of Fame has changed from age to number of titles to years on the tour, Barnes didn't even know when he would be eligible and was surprised by the call.
"When he called, I was trying to figure out what I did wrong," Barnes said from Southern California, where he was helping conduct a series of clinics. "I always believed you should get in toward the end of your career, not the middle of it.
With the current criteria being 20-years as a member and Barnes reaching that point after 2017, he was selected in his first year of eligibility. He joined senior star Ron Mohr and the family of the late bowling proprietor, Don Mitchell, in front of a crowd of about 300 made up of family, friends, fans, industry leaders, fellow hall-of-famers and media members.
"It was a larger-than-usual ceremony," he said. "It was a little intimidating to give a speech at that point. It was pretty much a who's who."
Among those in attendance were Marshall Holman and Mark Roth, idols from Barnes' youth growing up in Topeka, Kansas.
"They are who I wanted to be one day so, it's kind of surreal to think about those guys being there on a night honoring me," he said of his obvious career highlight.
"It's the best of the best. It's the pinnacle of one's career to be named to the most elite class. I knew it was a goal and I knew I had the qualifications for it, but it didn't really sink-in, that the guys who were my heroes and the guys I grew up watching on Saturdays … I didn't see myself as a peer, but I guess now I am."
Everyone knew he would make it one day, with 18 overall victories, including wins in the 2005 United States Open, 2006 PBA Tournament of Champions and 2011 PBA World Championship.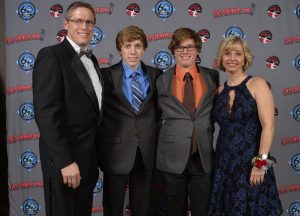 Barnes is among only six players to win the sport's Triple Crown and one of just five athletes to be named Rookie of the Year and Player of the Year. He also ranked among the Top 10 in PBA earnings for 16 consecutive seasons, surpassing the $1 million milestone in career-earnings in a then-record 170 events.
This all came after initially coming onto the national scene as a member of the Wichita State University bowling team. Yearly appearances on Team USA, both as an amateur and professional, made him even more well-known.
But, unlike many pros who turn professional in their late teens or early 20s, Barnes waited until age 28 in 1998, after nine years as what's known in the sport as a "professional amateur" non-PBA members are still eligible to earn money.
Never one to be satisfied with success, Barnes always has been into learning how to improve his game.
"Every time I got to feeling too comfortable or felt like I was 'good enough,' I kind of got kicked in the teeth afterwards, so it never served me well," he said. "And I always kind of believed you either keep improving or you're starting to get passed, because there's always somebody behind you who is trying to get better every day. You either have to keep being that way or there's people catching up or passing you by."
While this is the first Hall of Fame honor for Barnes, it is not the only one in his family. Wife Lynda, a long-time Team USA member and sometimes competitor on the Professional Women's Bowling Association Tour, is a member of the United States Bowling Congress and World Bowling Writers Hall of Fame, plus numerous other awards in her native California.
"I'm one closer to her now," he said.
Since he continues to bowl in PBA, USBC and world events, it's likely he'll move even closer to his wife one day. In two years, he will be eligible for the PBA50 Tour, where he can compete with the likes of Pete Weber, Walter Ray Williams Jr. and Mohr. He also plans to continue with Team USA, because it means bowling for his country.
"That far surpasses bowling for money," he said. "It still is one of the most fun things I get to be part of. I'm hoping to be part of the team that goes to the world championships later this year."
Barnes does have two other primary goals – match Holman's 22 career titles and capture the USBC Masters, the last of the sport's majors that has eluded him.
It's the next step on the rest of his bowling journey.
"I'm getting closer to my used-by date than my start date, but I feel like I have more still in me," he said.