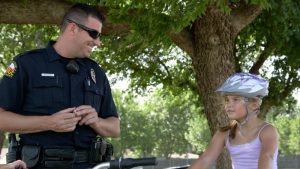 The Flower Mound Police Department is bringing back a program that rewards kids for wearing helmets and treating others with kindness.
"Back by popular demand," the department's Get the Scoop summer program returns Saturday, according to a town news release. Flower Mound officers will distribute free treat vouchers to children they see wearing a helmet while bicycling, skateboarding or rollerblading.
Officers will also be on the lookout for random acts of kindness performed by kids throughout the summer, the news release said.
The vouchers are redeemable at the following local businesses:
Dairy Queen, 2000 Long Prairie Road
Epic Gelato, 2400 Lakeside Parkway #100
Sonic, 6210 Morris Road — Free medium cherry limeade
Sonic, 2925 Cross Timbers Road — Free medium cherry limeade
Sonic, 2541 Flower Mound Road — Free vanilla ice cream cone
Culvers, 2709 Flower Mound Road — One scoop or dish ice cream
Baskin-Robbins, 2704 Cross Timbers Road — Free soft-serve cone
Marble Slab, 2321 Cross Timbers Road — Free child's ice cream
Dairy Queen, 1909 Justin Road — Free mini Blizzard