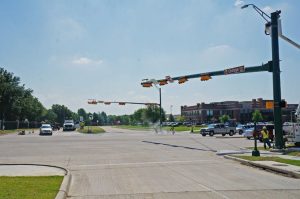 The new traffic signal at FM 2499 and College is now flashing and will go into full operation about 9 a.m. Tuesday, according to a news release from the town of Flower Mound.
The light will be programmed to coordinate with the other signals on FM 2499 during peak times, 6:30 a.m. to 7 p.m., according to the town. Like all other signals in Flower Mound, it has detection capabilities and will work in conjunction with the cycle and direction it serves. If there is no demand on the side streets or turn lanes, it will stick with the traffic flow on FM 2499.
During the off-peak times, 7 p.m. to 6 a.m., the signal will function based on demand and will not be in coordination with the other signals on FM 2499, according to the news release. It will remain green on FM 2499 until there is traffic from a side street or turn lane.