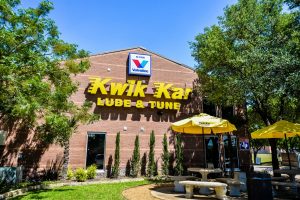 by Albert Gutierrez, Operations Manager, Kwik Kar Flower Mound
Summertime is quickly approaching, and right along with it come dreams of vacations, time away, road trips, or at the very least – less congestion during morning rush hour traffic! Also arriving on queue are higher gas prices.
The best option for reducing your fuel cost is to increase your fuel efficiency, allowing you to get more miles per gallon (MPG). With the tips below, achieving better gas mileage can be easier than you think.
Check Your Tires. If your tires are under-inflated, they will have a lot more contact with the road which creates additional friction and drag. This means it will take more gas to get you going. Proper inflation can increase your fuel economy up to 3%, which can add up over time. Here are some tips to help ensure your tires are properly inflated:
Check your owner's manual for proper inflation levels usually listed as pounds per square inch, or PSI. This information is also listed on a sticker on the driver's side doorpost.
Do not over-inflate your tires. Some mistake the PSI imprinted on the tire as the recommended PSI, but that is the maximum PSI the tire can hold – which is not recommended.
The air pressure in your tire will vary depending on the weather and how long you have been driving. You will get the most accurate PSI reading when your tires are cold, prior to your daily commute.
Tires can lose around 1 PSI per month, so be sure to have it on your calendar to check your tire pressure at least once a month.
Check Your Engine and Emissions Systems. If your engine is not running properly, or regular preventative maintenance has not been scheduled, your vehicle could be burning a lot of excess fuel.
Keep up with preventative maintenance needs like oil changes and tune-ups.
Ask your mechanic if they tune-up your vehicle for maximum power, or maximum fuel efficiency. There's a big difference between the two, so be sure the mechanic is clear about what you want.
Make sure your spark plugs are all firing properly. Misfires can waste a lot of fuel.
Change your air, intake, oil and fuel filters at the recommended times listed in your owner's manual. Clogged filters will reduce your car's performance and your fuel efficiency.
Ensure your oxygen sensors and emissions systems are functioning properly. Malfunctioning sensors could be responsible for burning up to 20% more fuel than necessary.
Whether you are headed out on a road trip or just doing your daily commute, don't let the high gas prices get you down. Come on in to Kwik Kar in Flower Mound and let us help you make sure your car is as fuel efficient as possible. That way, you can get back out on the road again to enjoy your summer with a bit more money in your pocket!