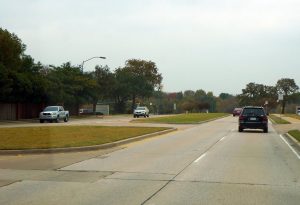 The new Morriss Road designation as a four-lane urban divided minor arterial from a major arterial six-lane designation, between FM 3040 north to its terminus at FM 407, has cleared the way for the Town Council and staff to prioritize a long list of road improvements related to the overall Capital Improvement Project.
"The Council also approved several safety upgrades and traffic flow improvements that will be included in the Morriss Road Improvement Project," said Executive Director of Public Works Tiffany Bruce.
"These improvements will be part of the larger project that includes panel replacement and ADA [Americas with Disabilities Act] improvements from FM 3040 to Garden, as well as water line replacement from Forest Vista to Garden."
The improvements include:
adding a second left-turn lane from Garden Road to Morriss, prohibiting right turns-on-red from northbound Morriss to Garden during school zone hours, which will allow more cars to exit Forestwood Middle School (FMS) and reduce congestion on Garden Road during school pick-up/drop-off times;
installing a three-way stop at the Garden and Firewheel Drive intersection;
adding a third lane on northbound Morriss Road from FM 3040 to Lake Bluff Drive to eliminate the current bottlenecking at the intersection;
extend the southbound Morriss left turn lane at Forest Vista; and,
add warning signs at selected curves along Morriss.
Lewisville ISD Director of Safety and Security Matt Garrett has attended Town Council and staff meetings related to safety issues directly impacting FMS, as well as gathering data on the campus internal traffic patterns.
"LISD has been very supportive of all the options that were presented to council Monday, including those approved," said Bruce. "LISD staff and Town staff are working on a few possible options that may help internal traffic flows but LISD wanted to wait and see what Town Council approved before moving forward to best coordinate efforts."