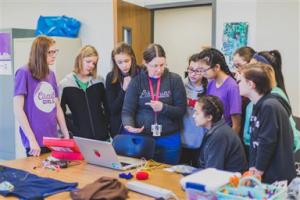 Some Lamar Middle School girls are learning about technology through a relatively new club that combines design with coding, circuitry and computer science.
For the past two school years, Lamar Middle School Library Media Specialist Kristi Taylor has facilitated the weekly Circuit Girls program, which she believes is an empowering way to promote technology and new skills.
"I want to bridge the gap for the lack of girls in technology, while having something successful and creative for students to be a part of," Taylor said. "I hope my students don't find technology to be scary and that they can look at a circuit board or a computer program, or anything that they have to learn for school, and go, 'I can do this.' It is all about empowerment."
According to Girls Who Code, a nonprofit that supports women in technology, while in middle school, 74 percent of girls express interest in science, technology, engineering and math (STEM), but when choosing a college major, just 0.3 percent of high school girls select computer science.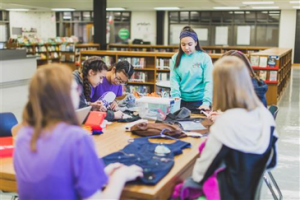 During the school year, the Circuit Girls club received Lewisville ISD Education Foundation grant to create "wearables" with technology — think fashion meets coding. To create wearables, girls paired up to sew lights on various articles of clothing and then program the lights to illuminate. Later, they presented their high-tech fashion at the Texas Library Association's Annual Conference.
The students were happy to share their creations with others at the conference.
"I liked how excited people were about the dress we worked on," eighth-grader Sophia Stafford said. "I thought it was cool, and the librarians seemed to like the idea of doing something similar with their students. I'm glad we shared our project with them."
Visit Lamar's Library and Makerspace website for more information.