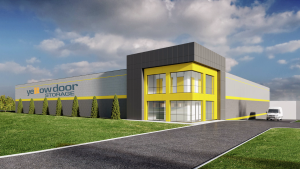 A storage facility broke ground last week near Argyle.
Yellow Door Storage, an 890-unit storage facility, is coming to 812 Crawford Road, next to the new Wise Health Emergency Center and urgent care facility.
Yellow Door Storage will consist of a 77,000-square-foot, three-story climate-controlled building, with eight traditional drive-up storage buildings behind it, according to a news release. It is scheduled to open early 2019.
Denton-Based NorthBridge Investments — a development group focused on office, industrial and self-storage businesses — considered several potential sites in the Argyle area and chose this location because it close to several large housing developments and I-35W.
"We look forward to bringing a first-class storage facility to a market we feel is currently underserved," said Bret Andrus, NorthBridge's managing partner. "We are excited to be a part of the community and to serve the storage demands of a growing population."