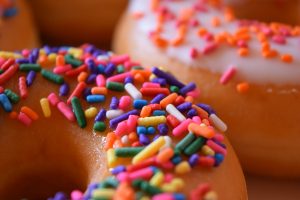 The applicant trying to bring a new doughnut shop to Argyle is frustrated and not sure what to do next after the Town Council denied the shop's proposed site plan, even though the Planning & Zoning Commission unanimously recommended approval.
The proposed site plan would put a small doughnut shop called Sprinkle Donuts in the northeast corner of Denton Street and Hwy 377 in the Old Town district.
The applicant, Jahvani Consulting Engineers, and the property owner, Byang Moo Yoo, sought approval in spring 2016 for a 1,500-square-foot doughnut shop, but it was denied unanimously by Town Council.
Houshang Jahvani said town ordinances required the building to be at least 1,500 square feet and required at least 15 parking spaces, but the property didn't have enough room for both, so they proposed 13 parking spaces and requested a variance. Jahvani said the Town Council denied that proposal, saying there needed to be at least one parking spot per 100 square feet in the building.
They also needed to make more room for a dumpster and landscaping, so Jahvani and Yoo worked on a different plan. They reduced the size of the building to 1,200 square feet and requested a variance for the smaller building and less landscaping than required because there still wasn't enough room. In early March, the town's P&Z unanimously recommended approval of the revised plan with some minor conditions, to which the applicant agreed.
But in late March, Town Council surprised Jahvani and unanimously denied it, again insisting that the applicant adhere to town ordinances that Jahvani says are impossible.
"You simply can't have both 1,500 square feet and 15 parking spaces," Jahvani said. "The lot isn't big enough."
During that Council meeting, Council member Ronald Schmidt said there is "wisdom" in the town's ordinances, and the proposed plan didn't appear to be practical because it is too tight of a fit.
"I have to commend the engineer and the owners for trying to make something work that is clearly difficult," Schmidt said. "But 1,500 square feet is not very large to begin with, and if we start seating 377 with smaller buildings, I think that is a distraction from what Old Town could look like."
Schmidt later said he didn't think it was the "appropriate place" for Sprinkle Donuts.
Mayor Don Moser said he doesn't think the proposed Sprinkle Donuts plan fits the town's vision for Old Town.
"My issue with this is this is our Old Town area, this is an area we want to build specifically in a way that shows the Argyle that we're trying to preserve," Moser said in the meeting. "If we start giving variances … it's going to start setting a precedent that will be hard to get away from, especially in our Old Town area," a sentiment echoed by other council members.
Jahvani said he and Yoo had approached the owner of the adjacent lot to purchase that property so they could meet all requirements, but the property owner wouldn't sell, leaving them stuck. They have yet to decide what they will do next.
"My client doesn't know what to do," Jahvani said Wednesday. "He's very upset."
Jahvani said he's "never seen" anywhere else the problems he's encountered in Argyle on this project, wondering aloud why the town "doesn't want to compromise."
There is one doughnut shop already in Argyle, Donut Paradise, located in the shopping center in the southeast corner of Country Club Road and Hwy 377, less than a half-mile from the property where the Sprinkle Donuts was proposed to be.