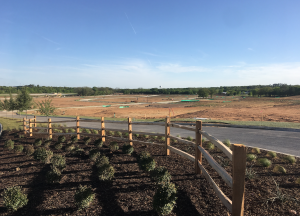 Construction on new homes at the Lakes of Argyle development is expected to begin this month.
The 115-acre development was approved in September 2015. It is located just west of the railroad tracks along Hwy 377, between Old Justin Road to the north and Harpole Road to the south.
The development has 139 lots, and 38 acres was set aside for open space for the town.
Kosse Maykus of Hat Creek Development said all of the water, sanitary sewer, storm sewer and paving is completed. The electric infrastructure — Oncor Electric, Atmos gas and Charter Communications — has also been installed. Within the next three weeks, the developer aims to complete all landscaping, amenity construction and pond fountains.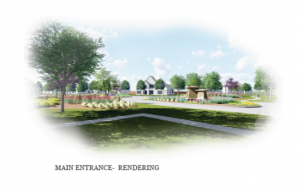 "We hope to bring a very valuable asset and beautiful thing to Argyle," Maykus said. "We're excited and anxious to get it finished."
The first lots have closed and construction should begin on those homes in the next few weeks, Maykus said. The first move-ins should be in about six to eight months from now, and in an ideal world, the development would be built out in two to four years. Our Country Homes and Southgate Homes are the two builders, and the house prices will start in the upper $400,000s and will reach the $600,000s or $700,000s.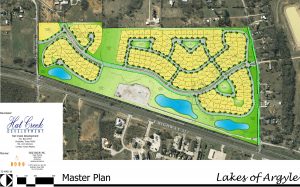 The development was originally called The Highlands of Argyle, but soon after it got approval from the town of Argyle, another developer in Northlake named one of its neighborhoods The Highlands, Maykus said.
"Instead of beating our heads against the wall, we just changed the name to The Lakes of Argyle," Maykus said.