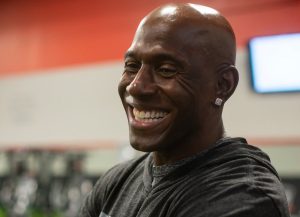 There is nothing average about Donald Driver. Even the reason he and his wife, Betina, chose to build their home in Flower Mound in 2007 is not average.
"During the [playing] season, we lived in Green Bay," said the retired NFL Super Bowl XLV Champion and Packer Hall of Fame inductee. "But we wanted a permanent home. I suggested Houston [his birthplace], but Betina said 'no,' and she suggested Atlanta, but that felt like Hollywood. We came to Flower Mound for a cousin's wedding in 2004 and liked it."
It could've been the town's proximity to DFW airport or that it's close to both Houston and Betina's hometown of Cleveland, Mississippi, or its location between Dallas and Fort Worth that led the couple to choose Flower Mound; but, that wasn't why.
"I got used to having a basement– after living in the Midwest– and I really liked it," he said. "Once I found out that they'd [U.S. Corps of Engineers] said I could have a basement on the bluff on Lake Grapevine … that was it. I like walking out of my basement to the pool and the view of the lake."
His is quite a journey to reach his home, from being the middle child of five kids who spent some time living in motel rooms– bought with food stamps– after his parents, Faye Gray and Marvin Driver, Jr., divorced and a collection agency took the family's possessions.
He moved in with his grandmother, Betty Lofton, at age 14, where a strict environment turned around his downward spiral of stealing cars and selling drugs to help provide for his family.
Driver's natural speed– his mother dubbed him "Quickie" as a child, because she couldn't catch him– helped him letter in high school four-times each in track & field, football, basketball and baseball.
While attending Alcorn State University, he lettered in both football and track & field. He was an Olympic-class high jumper, jumping 7-feet, 6.5-inches, qualifying for the 1996 Olympic Field Trials. He could have likely qualified for the 2000 Summer Olympics team in the high jump, had he not been drafted by the Packers in 1999.
The Alcorn gym is where he met Betina.
"She didn't think much of me," laughed Driver, flashing his dazzling signature smile, adding that he tells her often, "what a lucky woman she is;" which she ignores.
"Quickie" pursued the woman he loves with his signature mantra to achieve a goal: Determination, Discipline, Drive.
"I met her in June and we started dating in July," he said. "In September, I proposed and we got married in 2000."
The couple has three children: son Cristian, 14; and daughters Christina, 12 and Charity, 6.
"Cristian is all about style– looking sharp– and basketball and football," said Driver. "Christina has always wanted to own a nail salon and is into gymnastics; she's also the most like me. She takes care of everyone and tends to be a perfectionist– that's the OCD side of me."
He added that, while the family enjoys vacationing in the Bahama and Cayman Islands, just being together as a family is a favorite way to spend time.
"We'll have movie days when everyone gets to pick a movie and we all watch it together," he said. "We start with the youngest and, yes, we all watch Barbie together; or we'll play games together. It's a day when it's only us."
Family is the most important thing to Driver, especially the ladies in his life– his grandmother, his mother and his wife. The lessons he learned and by which he lives his life are being passed-down to his children.
"My grandmother and mother taught me the importance of sharing any good luck I've had; to pass it along," he said. "My mother is my heart and soul and my wife is my best friend and mother of my children. Those three women made me the man I am."
In addition to his principles, his "determination, discipline and drive" let him focus on his natural physical abilities to achieve the goals he set for himself as an athlete.
His rookie season, of a total 14 seasons as a Green Bay Packer wide-receiver, was not average.
"I was skinny, skinny, skinny– I weighed about 174-pounds– and nobody [from NFL teams] was looking at me, except [Packer scout] Alonzo Highsmith," remembers Driver. "He got on the phone to Green Bay and said I should be invited to tryout."
Driver, now 43, said he was still pretty invisible running practice plays, until a long pass came his way down in a corner of the field. The former high-jumper did then, what he'd do for 14 seasons with the Packers– he soared and caught the ball.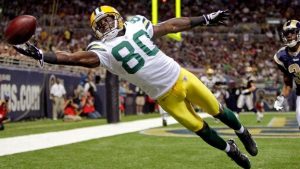 After the Packers picked him in the seventh round of the 1999 NFL draft, he got a call from legendary General Manager Ron Wolf asking Driver to meet him in the Pro Shop in Lambeau Stadium.
"I was afraid I'd done something, because he was not an easy man," said Driver, in an understatement of Wolf's reputation. "I got there and he said he was glad I'd joined the team and then told the clerk I could pick out anything in the store and to send the bill to him, personally; then he gave me a pat and walked out.
"I looked all around the store and finally picked a beautiful leather jacket with a Packer 'G' on the back; I think it was about $500. I wore it my rookie season, then gave it to my mother to keep."
On July 22, 2017, when Driver was inducted into the Green Bay Packers' Hall of Fame, he asked Wolf to come to the podium, while he told that story. He then gave Wolf the jacket as a symbol of how his life had changed eighteen years before.
"Well, he was not known for being emotional, but he teared-up, I teared-up and so did everyone in the room," said Driver.
Using his induction event to give-back to others was a demonstration of how his mother and grandmother raised him: share your good fortune with others; pass it along. That philosophy guides the Driver's lives and how they raise their children. They support the Blessing the Backpacks program of providing food for kids, whose only daily meal may be lunch at school, on weekends and through the summer.
Back in 2001, he and Betina created the Donald Driver Foundation, which offers assistance to ill children with unmanageable hospital bills, provides housing for the homeless, and donates to a variety of local charities. He also makes hundreds of charity appearances each year, plus supports numerous charitable events.
In March 2014, he created the Donald Driver Driven To Achieve Awards. Since then, the Driven to Achieve Awards have honored outstanding recipients and have given away more than $1.5 million.
He was a member of the Wisconsin Athletic Hall of Fame's 65th Anniversary Class of inductees on April 30, 2016.
Since its creation in 1951 in Milwaukee, there have been more than 135 inductees from a variety of sports, including auto racing, football, basketball, water skiing, bowling, baseball, bicycling, plus various Olympic sports. Bronze plaques in the Walk of Fame promenade include such names as Hank Aaron, Oscar Robertson, Andy North, Warren Spahn, Eric Heiden, Elroy "Crazylegs" Hirsch, plus such coaches as Bo Ryan, Curly Lambeau and Vince Lombardi.
His desire to "pass it along" as an athlete is the basis behind his new facility, Driven Elite Fitness & Health, inside Entry 3 of Grapevine Mills. It joins the other existing Driven Elite location in Southlake.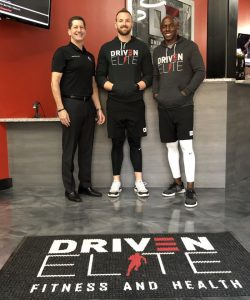 Both facilities offer physical training in group classes from kids aged three and up through high school and private sessions with Driver and co-owner former Detroit Tigers baseball player Aaron Westlake, who anchors the Southlake site.
Personal Training sessions are developed and designed around an individual's specific needs and goals. In addition, the Grapevine facility offers local athletes an experience and amenities usually only available at the college or professional level.
The on-site medical and health services clinic is overseen by co-owner and Medical Director Dr. John H. Myers with Chris Collins, director of Therapy Services.
Myers is a board-certified Emergency Physician and Pediatric specialist, as well as a Fellow of the American College of Emergency Physicians, the American Academy of Pediatrics and a Physician Member of the American College of Sports Medicine.
Myers has more than 20 years of healthcare leadership experience. He has created and led 24 healthcare-related companies, including Questcare Medical Services and serving as the CEO of Envision Healthcare – North Texas, prior to joining the Driven Elite team.
In addition to providing rapid assessment of injuries, rehabilitation and research-proven medical solutions for improving performance, the clinic offers: acute Illness/injury evaluation and treatment; therapy/rehabilitation services; a concussion management program; pre-participation physicals and injury-prevention; performance fitness and biometric tests; imaging services; biomarker blood testing panels; and, diet & nutrition/metabolic testing.
It is unlike any facility in the DFW area and provides a professional-level of training and medical amenities. Driven Elite Health offers state-of-the art, evidence-based sports enhancement and medicine programs for all ages. It has an on-site multi-disciplinary healthcare team, including board-certified physicians, physical therapists, occupational therapists and athletic trainers.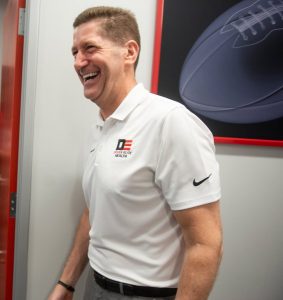 Myers himself has been a life-long athlete; swimming competitively as a child, which continued in high school– achieving Texas UIL All-State honors– and college. After college, Myers began running competitively– completing 25 marathons– including Boston and New York. In 2007, he turned to triathlons, completing hundreds, including being a 2x-Ironman finisher.
Myers has been awarded All-American Honors by USA Triathlon multiple years, All-World Ironman athlete and represented Team USA in the World Triathlon Championships in London in 2013. He is also currently practicing as a Visiting Team Medical Liaison for the Dallas Cowboys.
Driven Elite is offering Summer Sports Performance Camps for: K-Second Grade (Fun with Fitness); Grades 3-5 (Youth Athletes); Grades 6-8 (Middle School Athletes); as well as, sport-specific skill-focused programs for high school and college athletes. Visit: www.drivenelite.net for specifics.
In keeping with Driver's philosophy to "pass it on," and his favorite personal quote– written on a wall in the Grapevine location– "When one person stands to make a difference, it inspires others to follow," is an upcoming public charity event.
On Friday, May 18, the 5th Annual Donald Driver Driven Elite Fitness and Health Golf Classic will be held at the Bridlewood Golf Club, 4000 W. Windsor Drive in Flower Mound, will honor and support the Hoop Kings and Hoop Queens Scholarship Program. Last year, the charities selected to support were breast cancer and domestic violence.
"The Hoop Kings and Hoop Queens allows kids with an interest in basketball, but who either don't have the skill-level to be on a school team or can't afford what it might cost to play," said Driver. "We provide their uniforms, transportation and 'room-and-board' for any tournament travel. In addition, we give them a $1,000 scholarship to a two-year or four-year college, if they maintain a 3.0 GPA. During the school year, we have 27 teams; in summer that goes up to more than 40 teams."
For more information about sponsorship, or to register, visit: drivenelite.net/2018/02/13/5th-annual-driven-elite-golf-classic/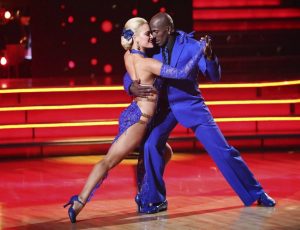 He joined the cast of Dancing with the Stars for season 14, paired with professional dance partner Peta Murgatroyd. They were declared winners on the season finale on May 22, 2012.
His childhood hero, Jerry Rice, was on the show's second season with partner Anna Trebunskaya and pair was named runner-up on Feb. 24, 2006.
Having a Super Bowl ring and a Mirror Ball Trophy at home is not average.
Driver's Quick-Fire Q&A:
Favorite athlete in childhood: the 20-year career NFL Hall of Fame icon,  Jerry Rice (#80 with the San Francisco 49ers), considered by most as the greatest wide receiver in NFL history.
"I admired him– and still do– not only for his achievements as an athlete, but how he is off-the-field," said Driver.
Person he has been most-excited to meet: singer Gladys Knight (seven-time Grammy Award singer, best known as the "Empress of Soul," of Motown Records, with her three Pips).
"When I was a kid, on house-cleaning day, my Mom would put on all the Motown songs while we worked," said Driver. "She was on Dancing with the Stars the same season I was and she was as nice and everything I thought of her growing up."
Person he admires the most: "Muhammad Ali– the Greatest; period."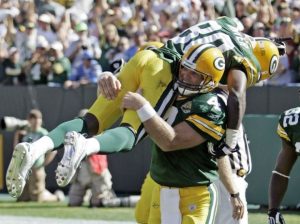 When asked by people his least favorite question: "Who's the better quarterback– Brett Favre or Aaron Rodgers?" Driver says they aren't comparable.
"Brett threw hard every pass," he said, displaying a finger broken during his sophomore season catching a Favre rocket. "When coach suggested he might take it a little easier, Brett said, 'Why? He caught it, didn't he?' He played it like a game … with great joy. He didn't care about interception numbers."
Driver said Rodgers, on the other hand, is all precision: "He doesn't want any interceptions and he throws so that the ball lands like a feather in your hand. In fact, if he throws at you hard, it means he's mad at you."
Driver Football Statistics
He spent all 14-years of his NFL career as a wide-receiver with the Green Bay Packers; was hoisted over quarterback Brett Favre's shoulder many times after winning a game; was a member of the Packers' team that won Super Bowl XLV– on Feb. 6, 2011– over the Pittsburgh Steelers, 31-25; and, he holds the franchise's all-time records for most career receptions and receiving yards, after he caught a 10-yard pass from quarterback Aaron Rodgers on Sept. 18, 2011. That's not average.
After he retired on Jan. 13, 2013, the Green Bay Packers hosted the first public retirement ceremony ever held for a Packer player; the Mayor of Green Bay announced the statue of the Packer receiver would be refurbished wearing a #80 Driver jersey and the street leading to the statue was also renamed "Donald Driver Way" on June 15, 2013. On July 22, 2017, Driver was inducted into the Green Bay Packers Hall of Fame. That's not average.