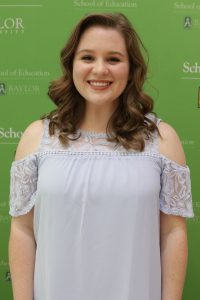 A local student currently attending Baylor University recently received an award from the university's School of Education.
Martha Adams of Flower Mound received the 2018 Award for Outstanding Student in Middle Grades Education, according to a Baylor news release.
Baylor School of Education Clinical Associate Professor Dr. Rachelle Rogers said Martha is an exceptional mathematics educator.
"Martha embraces new instructional ideas and approaches that support the learning of each and every student," Rogers said.
During her time at Baylor, Adams was involved in the Baylor Chamber of Commerce. She spent her teaching internship at Robinson Junior High School.
"I want to teach to share my joy of learning and math with students," Adams said. "My goal is to instill confidence in every student I teach. Teaching fulfills me when I see the joy that learning can bring."
Founded in 1919, Baylor School of Education ranks among the nation's top 20 education schools located at private universities, according to the news release.