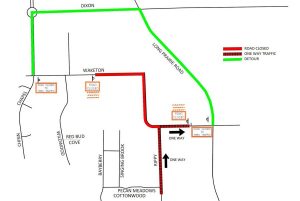 A Flower Mound road project that was supposed to be a four-month project is now expected to be completed a year after it started.
The project began in early June 2017 and shut down sections of Waketon and Rippy roads to upgrade the existing asphalt road to concrete, straighten out tight curves and eventually add a roundabout at the intersection at Waketon Road and Chinn Chapel Road.
The town originally expected the project to be complete in late September or early October, but had to wait for franchise utilities to relocate their lines in the area, according to the town, delaying the project for several months.
After those delays, the town had expected the project to wrap up earlier this spring, but the contractor responsible for the project, CalAtlantic Group, recently merged with Lennar Corporation, causing further delays, according to the town.
Brain Waltenburg, senior project engineer for the town, said in an email Tuesday that the contractor is currently placing steel and paving. Weather permitting, paving should be complete by Friday, and transitions and tie-in to existing pavement will take about another week.
"At that time, a traffic switch traffic will occur on northbound Rippy Road and the final phase of paving, which includes the remaining portions of Rippy/Waketon and Pecan Meadows/Rippy intersections, will begin," Waltenburg said in the email.
The contractor estimates having the project open to traffic by the end of May, with final striping, grading and cleanup occurring in June.
In the meantime, Waketon is closed to thru-traffic from FM 2499 to Chinn Chapel Road. Southbound Rippy Road is closed from Waketon Road to Pecan Meadows, and northbound Rippy Road remains open allowing resident access to the FM 2499/Waketon signal. Traffic is being detoured to Dixon Road for the project duration.
For future updates, click here.