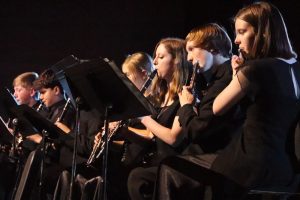 The Liberty Christian School Band recently won the state competition for the fifth time in seven years.
On April 24, the Liberty Christian Band competed and won the second and final round of the Texas Association of Private and Parochial Schools state competition in Temple, according to a school news release.
The LCS band, "small in number but mighty in music," led the race for state after the first round of competition in Austin on March 26 that featured solos and ensembles. The full band competed in the second round that included concert, jazz, rock, and Broadway music, in addition to a sight-reading component.
"What an amazing year, from the first days of Summer Band Camp to our final performance at Artist's Garden," said Band Director Scott Himel. "It has been an incredible journey that has culminated with another State Championship for the Liberty Band."
The Liberty Christian Band won state for the fourth straight year in 2015, and nearly won the last two years.
"Our seniors started their journey seven years ago as Lower School beginner band students as they watched, listened, and learned from their older peers," Himel said. "When it was their turn, they stepped up to meet the challenge of continuing our legacy. Over the years, all of our students have grown together into a band family, and they have stood shoulder to shoulder in pursuit of excellence."
A "sweepstakes" is awarded to a band program when the large formal Concert Band achieves a superior rating of 1's in the students' performances of three songs, plus an additional "1" rating in the sight-reading competition, according to the news release. The Liberty band has won sweepstakes seven out of the last 10 years. This year, however, marks the first time in the Liberty band program's history that students received recognition as a sweepstakes winner and first place in every performance event and category.
"To completely 'sweep' the entire performance contest is an extremely rare achievement, and we applaud all of our band students for this momentous accomplishment!" Himel said.
Band members include the following students: On flute, Kelly Becker and Jax Porter; on clarinet, Jacob Ahlfs, Alex Archer, Alex Hollenshead and Nathan Russell; on alto saxophone, Ashley Howard and John David Munera; on tenor saxophone, Lauren Appleton, Nate Benson and Meredith Gordon; on trumpet, Matthew Hilton, Connor Menckhoff and Luke Rosprim; on trombone, Wyatt Hill, Trey Schulze and Hannah Taylor; on tuba, Lucas Melson; on percussion, Reese Carson, Daniel Hayden, Carly Howard, Addison Hudelson, Cole Jackson, Cheryl Shaffer, Charlotte Wan, Wilson Wen,and Lucas Zhou; on bass guitar, Adelle Anderson, and on guitar, Peyton Sanderson.