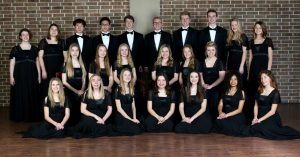 The Liberty Christian School Choir recently won its second consecutive state championship.
In March, LCS choir students participated in the first part of the state competition at the Texas Association of Private and Parochial Schools Solo and Ensemble contest where 38 choir students earned 94 first division medals, according to a school news release.
The choir competed in the second part of the state competition at the TAPPS Concert and Sight Reading contest in Waco on April 21 where students presented the Men's, Ladies and Mixed Ensembles.
"All three groups received perfect scores on stage, and the Men's and Mixed groups received perfect scores in Sight Reading as well, giving those two groups a Sweepstakes,"said Choir Director Sharon Miller. "The points gained from both competitions resulted in the state championship."
Earlier in the year, four students participated in the Texas Private School Music Educators Association All Region competition: Sierra Cothes, Kylie Lewis, Alexis Moore, and Ben Ward. Alexis and Kylie went on to participate in the All State competition and performed at the Eisemann Center in Richardson.
"We have some of the most talented, hardworking students I have ever known," Miller said.
Acappella includes students Sara Beauchamp, Kayla Coppens, Sierra Cothes, Peyton Jolley, Lindsey Meath, Alexis Moore and Sammie Wuensche.
Chorale includes students Grace Besly, Raegan Boehm, Michaella DeCapua, Abbigail DeWall, Isabel Hopkins, Cole Isaacson, Trevor Jones, Rachel Jolley, Kylie Lewis, Braedon Lindsey, Katie Manning, Alexis Moore, Ava Navin, Catherine Price, Bishop Ryan, Sarahbeall Shaffer, Anna Sitzes, Avery Spitler, Sophie Steffey, Laura Taylor, Andy Wang, Ben Ward, Reagan Widyn and Boyang Zhang.
Worship Culture includes students Sara Beauchamp, Raegan Boehm, Jonathan Couch, Christian Goodrum, Matthew Grigg, Jacob He, Grace Korak, Emily Russell, Anna Sitzes, Hadley Stephenson, Reed Taber and Isabella Van Trease.