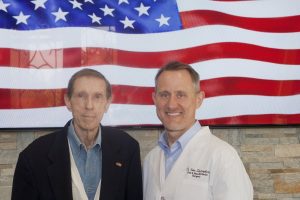 Having served in the U.S. Army, Dr. John Shillingburg always has had a soft spot for fellow veterans. So, it's no surprise when the board certified oral and maxillofacial specialist and owner of Flower Mound's DFW Oral Surgeons agreed to assist a fellow soldier.
On May 4, Shillingburg will be part of a team rehabilitating the entire mouth of fellow DFW resident Christopher Coker. The approximately eight-hour surgery will be Shillingburg's first under a program called Operation Restore Oral Health.
The ministry was started a couple of years ago by fellow oral and maxillofacial surgeon Ray Lee, with whom Shillingburg worked while on a joint 2005-2009 assignment at hospitals at Virginia's Fort Eustis and Langley Air Force Base. Lee connected Shillingburg with Wayne Kyle, father of "American Sniper" Chris Kyle and Shillingburg was asked to lead the North Texas efforts to help people like Coker.
"He [Coker] was a Marine who served two tours in Vietnam and two or three years ago had a lung biopsy procedure done in Dallas," said Shillingburg, who was in the Army Reserve from 1995-1999, plus on active duty from 1999-2009.
"When you have lung surgery they put very large tracheal tubes in parts of both lungs. As they were pulling it out, they knocked out all of his front teeth. So, he's been a dental cripple as a result of that and has not had anyone to help him. Wayne approached me and asked if I'd be willing to help him."
The procedure normally costs about $60,000, but will be done at no cost to Coker, who also has severe Crohn's Disease, which contributed to dental issues.
"After I initially evaluated Chris, I decided he'd be a very complex case and, as a result, I ended up approaching three people: Dr. Raymond Rodriguez, a prosthodontist in Dallas; Rynhard Venter with Archworks Dental Lab in Waco; and Nobel Biocare dental implant company," Shillingburg said.
Nobel is donating all dental implants and restorative parts. Venter offered to do all the lab work, Rodriguez will fix the teeth and Shillingburg will do the surgery at his Flower Mound location.
"He's very deserving," he said. "It's our pleasure to perform this. We're just excited. What we see when we do these kinds of procedures on people is they go from having no teeth to having a full set of teeth that are nice and function well. What that does for someone's self-esteem is unreal."