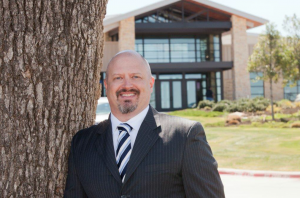 Liberty Christian School has a new president.
Liberty Christian's Board of Directors recently announced Dr. Blair McCullough, currently the school's  Headmaster/Vice President of Academics, as the newly-appointed President of Liberty Christian School.
McCullough came to Liberty in 2014 as the Upper School Vice Principal prior to becoming the Headmaster/Vice President of Academics. His wife, Cristy, is the director of fitness and wellness for Liberty's girls' athletic program. the couple has  two children, Taylor and Jackson, who are Liberty students.
McCullough said he and his family have found that what makes the school special is its commitment to faith.
"Everything we do starts with Christ at the center and we are true to that and unapologetic about it," he said. "As a result, we have a really strong community. You can almost feel the community and family vibe when you walk into the school."
McCullough succeeds Dr. Rodney Haire, who founded Liberty in 1983 and served as president until he announced his retirement last year.
"There's a saying that says– 'This place was great long before I got here'– and that's certainly true with Rodney and his wife, Judy," McCullough said. "They also laid a strong foundation for us to continue on what they already started. It is big shoes to fill, but we are walking into something that is strong."
The Board chose McCullough, in part, because he brings extensive knowledge of and passion for leadership development on all levels; from students to faculty.
"Blair is the ideal choice to lead Liberty Christian School," said Joe O'Rourke, president of Liberty's Board of Directors. "As a proven spiritual leader, he leads effectively and with great thoughtfulness and expertise. He will keep Liberty on the cutting-edge of best practices, while recognizing that Christ is the center of our biblical worldview."
Prior to Liberty, McCullough worked in education at the university- and high school-level, including positions such as: recruitment coordinator; special education teacher; coach; assistant principal; and, principal.
McCullough lived in Seoul, South Korea, for seven years and started a special education program at an international school there.
McCullough and his family began a mission trip to an orphanage in the Philippines– a ministry in which 200 students have been involved in for nearly a decade. He received his Bachelor's in Psychology at Lee University, his Master's in Special Education at Regent University, his Education Specialist degree at Liberty University and his doctorate in Christian Education at Andersonville Theological Seminary.
An upcoming change for the 2018–2019 school year is moving the Upper School from a hybrid-schedule to a block schedule, giving students more time for in-depth learning.
As far as Liberty's long-term future, McCullough said the school remains focused on and committed to raising, "leaders who impact the world for Christ."
To do that, Liberty wants to be "on the cutting edge of education," by emphasizing STEM (Science, Technology, Engineering, and Math) and critical thinking, utilizing technology and making classrooms more collaborative and innovative.
"We want to see our school continue to be a leader in our community in terms of the Christian representation that we have," he said. "I believe Liberty has the opportunity to be one of the premier Christian schools in Texas. We have always had the reputation as one of the top schools, but I think we have opportunities to enhance everything we are doing."