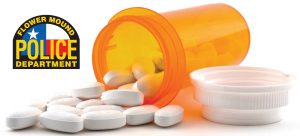 Local residents can safely dispose of their unused prescription drugs next week in Flower Mound.
April 28 is National Prescription Drug Take Back Day, a nationwide effort to provide a safe, convenient and responsible means of disposing of prescription drugs while also educating the general public about the potential for abuse of medications.
The Flower Mound Police Department will station officers at Marcus High School or Flower Mound High School on April 28 from 10 a.m. to 2 p.m. to collect and safely dispose of residents' unneeded medications.