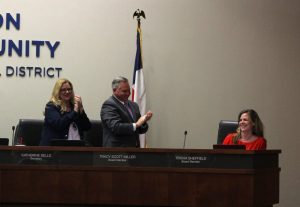 At its April 16 regular meeting, Lewisville ISD officially joined the Denton and Tarrant County local elections scheduled for May 5, pulled middle school start times up by five minutes and narrowly authorized the refinancing of almost $20 million in bond debt from 2009 and 2010.
Though it was recommended that the board increase the cost of full-price lunches by five cents as the USDA's lunch equity tool was expected to call for, that item was tabled. It appears that the FY 2019 version of the tool has not been released yet.
The board still voted to extend the contract with food service provider Aramark Educational Services, with which it has contracted for 18 years. Its proposed fees for the next school year are a combined $682,917.
Read more in The Lewisville Texan Journal.