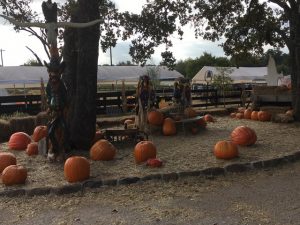 For 26 years, the Flower Mound Pumpkin Patch has celebrated October; drawing people from near and far to the northeast corner of FM 1171 and Lusk Lane.
During Monday night's Flower Mound Town Council meeting, a Master Plan Amendment and rezoning request for 2.3-acres at that location– to build an architecturally-modified 14,612-square-foot CVS pharmacy– was heard.
While the Pumpkin Patch has remained unchanged in its charm and reliability for the past two-and-a-half decades, what has changed is the town surrounding it. Even the two-lane Farm-to-Market rural road running in front of the 24-acres owned by Janet Balekian for 42-years has become a six-lane major arterial.
Across Cross Timbers Road, south of Balekian's property, a widened extension of Flower Mound Road was cut several years ago. On the resulting southwest corner will be a large Catholic Church.
On the southeast corner, ground was broken in November 2017 for a new K-12 campus for Founders Classical Academy– a Responsive Education Solutions public charter school– which has outgrown its current location in Parker Square. Its projected enrollment within five years is expected to be 800 students in two buildings with a playground and (probably lighted) athletic fields on its 19-acre site.
Both the school and church were approved, despite their location within Flower Mound's protective Cross Timbers Conservation Development District (CTCDD). Balekian's property is within the less-sensitive Cross Timbers Protection Area (CTPA).
The former neighbor to the east of the Pumpkin Patch– an equestrian center– is now an under-construction, high-priced subdivision; which some of the current and future residents are hoping will become a gated community, even though the adjacent existing Pumpkin Patch would be between the subdivision and the proposed CVS  location.
At its March 26 Planning & Zoning meeting, commissioners had voiced concern about the hours of operation for the pharmacy drive-thru window and the land-use change to Retail from Estate Residential.
Commission Chairman Perfecto Solis added: "Development is going to come to this corner and CVS has gone the extra mile."
Ultimately, the commissioners voted to deny recommending the project to Town Council.
Speaking on behalf of Balekian on Monday night, Bobby Dollak, senior engineer with G&A Consultants, informed council members that CVS had agreed to limit the drive-thru window hours to between 7 a.m. to 10 p.m. In addition, Balekian and her family members presented private deed restrictions to ensure that the remaining 22.7-acres of the property will not be subdivided, but will maintain its Estate Residential zoning.
Balekian's motive behind her attempt to sell the parcel to CVS is preserving the Pumpkin Patch. Her cost to hold the annual event is $90,000 for labor, $250,000 for the pumpkins and $10,000 for insurance.
"That's out of my pocket before I see a dime," she said. "Every year it takes more and more. But, I do it for the children; not for the money. I love the children."
"I think it's a fine use for this corner and will bring in revenue; the other three land-uses on this corner won't," said Council member Claudio Forest, adding, "With the people in that area [western Flower Mound residential developments out to I-35W], I think CVS would serve the community."
Council member Jason Webb said: "For 16 years, we have pictures of my daughter with the scarecrow at the Pumpkin Patch. This is the last intersection until you get past the Cross Timbers Conservation Development District [CTCDD] with lots of homes in between."
Also supporting the MPA and rezoning was Council member Bryan Webb.
"We are looking at the land-use of this property for the MPA and how it fits and I've gone back and forth on this issue many, many times," said Deputy Mayor Pro Tem Kevin Bryant, before he voted against the project.
An MPA requires a supermajority vote [at least four approvals] to pass.
"Can this corner support small retail and will the people who use it be glad– yes," said Mayor Pro Tem Don McDaniel. "But, I promised to preserve this area, so I have to deny."
The 3-2, rather than the required minimum yes votes, denied the MPA request, as well as the zoning change dependent on passage of the MPA.
As a result, the future of the Pumpkin Patch is in question, as is the possible impact on the whole area by other potential developers for the site.
As Commissioner Laura Dillon had said: "We can't choose what developers come forward or who the owner may sell to."
Sometimes trying to protect things from inevitable change, is like erecting gates to keep out the glare from athletic field floodlights.