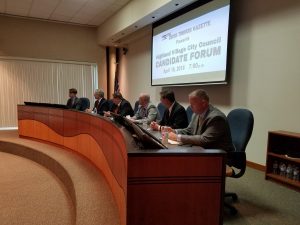 Candidates for Highland Village mayor and City Council discussed the issues and answered questions Monday night in a candidate forum sponsored by The Cross Timbers Gazette and moderated by Bob Weir.
Mayor
Highland Village Mayor Charlotte Wilcox is running for her second full term against student and lifelong resident Eric Aplis. Wilcox was unable to attend the forum due to a prior engagement, but she had an opening statement and closing statement read aloud at the forum.
Aplis, 18, said he decided to run for mayor because he noticed that a small percentage of the city's population votes in local elections.
"I found interest in running for this position not to try to beat out the current mayor, who's doing a fantastic job, but to get more people involved," Aplis said in his opening statement.
In his closing statement, Aplis said his opponent is the better candidate for mayor.
"I would encourage you to go vote for the best candidate, and at this time I see that as Mayor Wilcox," Aplis said. "My only intent in running was to make more people involved in the election."
For more information about the mayoral candidates, click here.
City Council
Three City Council seats are expiring. Five candidates are running for Place 2: Jim Archibald, who ran unsuccessfully against Wilcox in 2015; city residents M. David True, Jon Kixmiller, Dave Shilling and Jason Edwards. Archibald and Edwards were unable to attend the forum.
Edward Balboni and Robert Fiester, both first-time candidates, are running for Place 6. Place 4 incumbent Barbara Fleming is running unopposed and did not participate the forum.
Throughout the forum, the city council candidates maintained friendly discussion, and often agreed with each other and praised the work of the current mayor and council and the state of the city.
The first question asked candidates to explain what they perceive as the most urgent problem facing the city.
Kixmiller said he didn't see a particular urgent need facing the community — "the community is very solid" — so the most important thing is "to make certain this is sustainable" in the future.
"The decisions we make today and in the next month and in the next year, those are going to determine what we can do as a city to maintain the quality of lifestyle that we currently have for the citizens," Kixmiller said.
Shilling shared a similar opinion to Kixmiller and expanded on the importance of sustaining the state of the city by attracting more businesses."
"Highland Village is beginning to reach a point of maturity now," Shilling said. "There has to be maintenance and continued efforts to keep it solid … We currently have almost 30 commercial properties vacant in the Highland Village area … Every one of those commercial properties can generate city income tax for us."
True said his "biggest concern is making sure we stay moving forward."
Balboni said he initially though there were no urgent problems facing the city, but "there may be more issues than we know."
"I would like to think most of the issues don't really filter down to the common person," Balboni said.
Fiester said he agreed that "sustainability is a key question for our city going into the future. However, I am not particularly interested in development for the sake of development."
"Any future development … needs to generate tax revenue for our citizens but it also needs to improve their quality of life," Fiester said.
The candidates were asked about what enhancements to city services would improve the quality of life of its citizens.
Kixmiller said the city is doing very well today, but most everything can be improved and tightened up, and Shilling and True agreed.
Fiester promoted better interconnectivity — sidewalks, trails and bike paths — throughout the city, and parks and recreation for residents of all ages.  Balboni praised the city's services, but agreed that "tweaking" could be done.
Highland Village is one of three cities providing funding for the Denton County Transportation Authority, and the candidates were asked if residents are getting their money's worth.
Kixmiller said the city benefits from its investment in DCTA, "though it may not hit us directly today."
"It benefits in property values and our future of attracting people to the area," Kixmiller said. "I think the usage is too low … but I think you stay with it because it's a community investment for all of North Texas, not just Highland Village, so I think it's well spent."
Shilling agreed, saying it is "an investment in our future."
"We will see more and more of that being used," Shilling said.
True disagreed, saying he thinks the investment "means well," but it isn't being utilized enough.
"It's a great motive for those in the future of 30 years, but to get to that point, are we going to have enough budget money allocated every year to get to that point?"
Balboni preached patience, saying it's not known what kind of impact DCTA may have in the future. Fiester said he is for the DCTA investment, which he said opens up the city to senior citizens and others who don't own a vehicle.
Voting
Election Day is Saturday, May 5, with early voting from Monday, April 23 to Saturday, April 28, 8 a.m. to 5 p.m.; and, Monday, April 30 and Tuesday, May 1, 7 a.m. to 7 p.m.