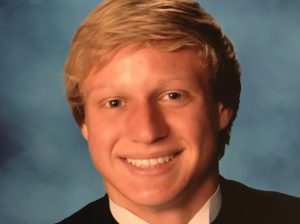 Cale Nanny is involved in an assortment of activities at Argyle High School, but his favorite extracurricular one is an organization called Senior Buddies, which allows him to spend time with and mentor younger students.
A captain on the Argyle football team and member of the soccer and track and field teams at Argyle, Nanny said: "Every Friday, a few seniors visit a class at the Argyle Elementary School and spend about 45-minutes talking to the kids and helping them with their work."
Nanny, 18, said the program has become important to him, adding that the students he visits make it a rewarding experience.
"When I walk into the Kindergarten class I go to, the kids run up and hug me and they always want to tell me about their week," Nanny said. "It is a really fun experience. When I was in elementary school, I always looked up to the Senior Buddies, so it's humbling being on the other side."
The Argyle teen is also a member of the Fellowship of Christian Athletes, the National Honor Society, and the Young Men's Service League.
"I enjoy being involved, because you build memories through activities and make friendships that will hopefully last a lifetime," Nanny said. "It also means a lot to give back to the school and community that has done so much for me."
Nanny carries a 103.7 on a weighted 100-grade point average at Argyle High School and is ranked eighth in his graduating class of 190 students.
The senior is undecided on college, but said he hopes to play football at the college level. He said the best part about attending Argyle High School has more to do with the town itself.
"I enjoy the support of the community most about Argyle," Nanny said. "When you go to other high school games around the area, you don't find the energy and love for the teams like our town has."
Nanny's Favorites
Favorite Subject: Math
Person who most inspires me: My dad
Favorite food: Fajitas
Favorite Movie: Kicking and Screaming
Favorite TV Show: The Office
Last book I read: Hamlet
Favorite musical group or performer: Randy Rogers
Nominate your favorite student for this monthly feature brought to you by Texas Health Presbyterian Hospital Flower Mound by emailing [email protected].