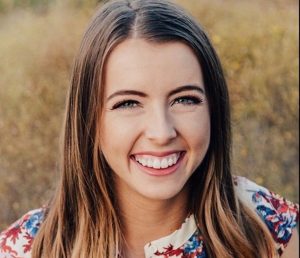 Liberty Christian senior Reagan Stevens believes in and practices leading a well-balanced life.
She serves as Captain of her four-time defending state TAPPS Champion cheer team, is a member of the Art Club, an Impact Leader– mentoring an LCS Middle School student– and a member of the National Honor Society.
Stevens has also placed at the state level in the TAPPS Academics competition in such areas as Art History and Social Studies, as well as holding a 4.03 grade point average.
Stevens credits the environment at Liberty Christian School for helping to nurture her interests.
"Each of these activities challenges me in a unique way," Stevens said. "The staff at Liberty constantly encouraged me to push myself and try new things and my friends supported me along the way, which made it possible for me to discover talents that I didn't even know I had."
Of all of her activities, Stevens said that cheer is the one she enjoys most.
"When we say that we are a 'cheer family,' we mean it," Stevens said. "From running hills behind the weight room during summer workouts, to performing in front of hundreds of people–  while being filmed for ESPN at the national competition in Disney World– I have had the opportunity to share so many fun memories with the most hard-working and fun people I know."
Stevens is planning to major in History in college, though she is still undecided on where she plans to attend. She said she likes being a young person today.
"Being a teenager today is cool, because the world is changing so fast," Stevens said. "Although it can be scary sometimes, it is exciting to be experiencing it all first-hand knowing that it'll go down in history books later."
Stevens added that although she does have a great passion for history, she does not plan to pursue a career exclusively in that field.
"My dream job is to work as a curator in an art museum, because I truly believe in the influential power of Art and History in people's lives," she said. "I would love to constantly be learning new things about places, cultures and time periods by working first-hand with the artistic masterpieces that defined them."
Stevens' Favorites
Favorite Subject: History
Person that most inspires you: My sister, Karson
Favorite Food: Thai Food
Favorite Movie: Ella Enchanted
Favorite TV Show: The Office
Book Currently Reading: How Democratic is the American Constitution?
Favorite Musical Group or Performer: Band of Horses
Nominate your favorite student for this monthly feature brought to you by Texas Health Presbyterian Hospital Flower Mound by emailing [email protected].