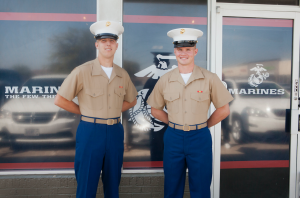 Many young people, unsure what they want to do with their futures, consider a spot in the military is an excellent option.
That has proven to be true for four 19-year-old Flower Mound residents, who recently graduated together from boot camp with the United States Marines at Camp Pendleton, California.
Privates Thomas Dunkle and Gabriel Bah finished high school at Marcus last year, as did Jacob Langley and Nicholas Ramirez from Flower Mound.
All were recruited by Staff Sgt. Richard Keating, who manages the Lewisville recruiting center, which also works with students from Lewisville and The Colony high schools.
"We are extremely proud to see the transformation, from just speaking to them at the very beginning, to learning their goals and what they want to accomplish in life," said Keating. "And, helping them build that self-confidence, where they can complete their training. It's the full cycle of them coming in scared and when they come back they are Marines; and walk and talk and how they carry themselves is the rewarding part of recruiting.
"We go over their goals in life and present them with the options. We're happy to help them reach those goals."
Dunkle first considered the military, after a long-time relationship ended.
"I had no idea what I was going to do, so I started meeting with recruiters from the Navy and Marine Corps," he said. "They laid out all the options for me and I felt that the Marine Corps was more for me. I wanted to do something because I'm young, healthy, willing and able.
"Having the opportunity to serve your country is very exciting and honorable so I got to the point in my life where I needed to take that next step. I wanted the challenge of learning new things and the travel seemed like a great thing with the Marines."
Even after the rigors of boot camp, Dunkle is convinced he made the right decision.
"It's been really great. I like it a lot," he said. "Boot camp provided me with that challenge. It pushes you and makes you better in the end. My dad told me he was proud of me so that was great."
Next for Dunkle is infantry training, starting later this month, before learning his specialty in security during Military Occupational Specialty training – better known in the Corps as MOS – also at Camp Pendleton. In between, he's learning about recruiting from Keating, while visiting with his family.
Langley took a slightly different route than Dunkle. A basketball player for the Jaguars, he started talking to recruiters in the Air Force and Marines. Some friends who were enlisting in the Marines brought him to meet Keating, who was instrumental in helping him make his decision.
"I went back and forth about enlisting or not enlisting," Langley said. "It took me about a year to decide because I was nervous about boot camp. But, after I started talking to Staff Sgt. Keating and went through some of the workouts to prepare me to boot camp, it kind of helped.
"I was a basketball player and didn't want to follow in my brother's shadow, after he (Brandon) played basketball in high school (graduating in 2013) and college (University of La Verne) in La Verne, California. My parents were comparing me to him about going to college. I didn't think college was the route was the route I was going to take. I wanted to take the military route. After graduating from boot camp, my parents are very proud of my decision."
Langley, who will be training to be an electrician, also has been helping Keating with recruiting until he returns to California.
"It's difficult, but fun," he said. "It's hard to get people to see the military side of it, instead of going to college."
Bah and Ramirez departed for Camp Pendleton in March where Bah will begin training in small arms repair while Ramirez will work in communications dealing with radio operations and data networking.
All hope to do their best to make Flower Mound proud of their service to their country.