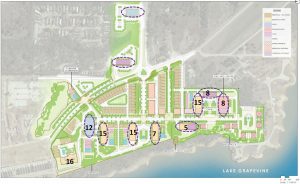 The Flower Mound Planning and Zoning Commissioners once again heard the developer's requests for a Master Plan Amendment and rezoning for the Lakeside Village Development on Monday night.
As with the Lakeside DFW development to its north, the 35-acre, $1.2 billion project includes a mix of retail, restaurants, hotels, villas, residential and office towers and amenities.
At the previous Planning and Zoning meeting on March 26, commissioners felt they had too many unanswered questions to make a recommendation for consideration by the Town Council. They voted 5 to 1 to table a decision. Commissioner Brad Ruthrauff had earlier recommended denying approval of the project.
At the suggestion of Vice Chairman Mike McCall, a joint work session with council members and town residents was scheduled with the developer, Realty Management, on Wednesday, April 4, to answer concerns and gather additional questions prior to Monday's second official presentation before Planning and Zoning.
For the Master Plan amendment to change the land use designation to mixed use, commissioners were able to approve a recommendation by a 5-1 vote for Town Council consideration at its upcoming meeting on April 16. For the rezoning request to include additional land, commissioners approved a recommendation by a 4-2 vote.
McCall said after the public hearing that he originally expected to not like the new Lakeside plan before he first saw it, but at this point, he thinks the town has "the responsibility to make it work."
According to the town staff presentation, the town received about the same number of letters in support and opposition from residents. Many residents spoke — some for and some against — in the public hearing.