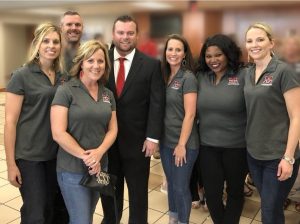 The Lewisville Independent School District announced Monday the appointment of Will Skelton as the new principal of Marcus High School.
Skelton succeeds longtime MHS principal Gary Shafferman, who will retire at the school year's end after serving as principal since 2008.
Skelton currently serves as principal of Flower Mound High School 9th Grade Campus (FM9), a position he has held since the school opened in 2014.
"I am thrilled and humbled to be named Marcus High School Principal," Skelton said. "'Pride in Excellence' is the school motto and is lived out every day by the Marcus students, staff, parents and community members. I can't wait to begin working side by side with everyone in the Marauder Family to honor and add to the tremendous legacy and traditions upon which MHS was built."
Prior to becoming principal of FM9, Skelton served as an assistant principal at Lewisville High School and Downing Middle School for six years. In addition to his administrative experience, Skelton served as head band director at Lakeview Middle School for three years and assistant band director at Downing Middle School and McKamy Middle School for four years.
As principal of FM9, Skelton developed a culture focused on the district's four cornerstones. From the implementation of programs like Student Ambassadors to the creation of 'vertical connections' within the Flower Mound High School feeder pattern, under Skelton's leadership, FM9 continues to reach new heights in student success and campus achievement. He has also made significant contributions at the district-level — serving on various committees including the LISD Legislative Advocacy Committee and as a mentor for new principals.
"Will Skelton is a tremendous leader, as he has shown throughout his career in LISD," Superintendent Dr. Kevin Rogers said. "I am confident Marcus High School students and staff will thrive under his direction."
Skelton received a Bachelor of Music from Stephen F. Austin State University. He also received a Masters in Educational Administration from the University of North Texas. Skelton holds certifications in Principal (EC-12) and Secondary Music (6-12).
Skelton resides in the LISD community with his wife, Corrinne, and their two children.