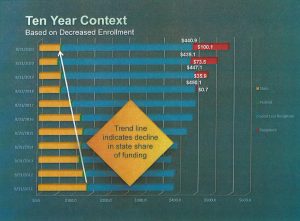 In a workshop session April 2, Lewisville ISD CFO Mike Ball and superintendent Kevin Rogers addressed the school board and detailed the troubled financial waters the district is about to enter, as well as specialized staffing needs going forward.
According to Ball's budget projections over the next three years, LISD is facing a deficit of $4.6 million this year, $19.8 million in the 2019 fiscal year and $44.3 million in the 2020 fiscal year.
In addition to declining state funding and estimated $10 million per year increases to salaries, the biggest culprit is the state's "Robin Hood" recapture penalties, which are about $700,000 this year but projected to jump to $35.9 million for fiscal year 2019 and $73.5 million for fiscal year 2020.
Read more from The Lewisville Texan Journal.