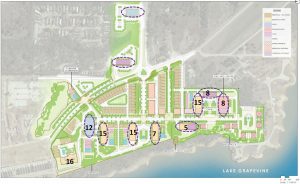 Wednesday's joint Town Council and Planning and Zoning marathon work session clarified many questions voiced earlier by residents, council members and commissioners about the 35-acre Lakeside Village mixed-use development.
As with the Lakeside DFW development to its north, Lakeside Village includes a mix of retail, restaurants, hotels, villas, residential and office towers and amenities. It's expected to generate $1.2 billion in revenue for Flower Mound.
The recent acquisition of the 9-acre Hines Tract, located on Lake Grapevine and surrounded by the Lakeside Village property, required the developer– Realty Capital, which also developed Lakeside DFW– to request a Master Plan Amendment for its Land Use Plan to change its current designation from Campus Commercial within the Lakeside Business District (LBD), to Mixed Use.
There's also a request for rezoning to include the additional land and amend the Lakeside DFW Development Code.
Assistant Town Manager Tommy Dalton answered many concerns, including: issues of lake access, open space, residential towers and ownership versus rentals; technical modifications; the regulatory framework of the Master Plan; Mixed Use zoning; and, LBD regulations.
Jimmie Archie, managing director for Realty Capital, presented answers to such questions as: "Have the U.S. Army Corps of Engineers– who "own" the Lake Grapevine lakeshore– approved the underground parking structures?"
Archie said the project and its concept plan could not move forward if it had not received approval: "It was something to see 15 Federal government representative– some coming in from Washington, D.C.– sitting around a table reviewing the plans."
He also addressed a concern by many residents and town officials– traffic, both from FM 2499 and Fairway (the dam road), as well as within the development.
Deputy Mayor Pro Tem Kevin Bryant added that a planned stoplight at Silveron and FM 2499 will lower the traffic flow through The Village and Lakeside DFW. In addition, Archie revealed a plan with a roundabout and a lane diversion on Fairway.
Mayor Pro Tem Don McDaniel requested Archie to address the current Lakeside DFW parking issues that are a major complaint for residents and businesses alike, before moving forward with the new development.
Also addressed were questions about changes to three original 2012 subzones– residential, commercial and entertainment. As several people commented: "It's 2018; things change in six years." It's inevitable that "tweaking" and some modifications will happen, but the overall concept and vision remain.
The overwhelming amount of information presented at the March 26 Planning and Zoning meeting dictated the commissioners' decision to table both requests and schedule the April 4 joint work session, including the two-hour public session at its beginning.
Assisting the town staff and the developer in their presentations and answers for zoning questions was Dan Quinto, zoning consultant and president of Roaring Brook Development.
"Vertical mixed-use development is extremely difficult," said Quinto.
According to many of the Lakeside DFW residents and business owners who attended the meeting, The Village is highly anticipated– especially the Phase I amenities, including the Amphitheatre, a hotel, underground parking structures adjacent to the restaurants at the southern tip of the Lakeside Village peninsula, as well as some lakefront green space, plus more.
When asked about residential investors and renting/lease rates, Archie replied that he expects it to be approximately $300-per-square-foot for a unit size of 2,000-square-feet. The targeted demographic would be downsizing Baby Boomers or similar upper-income residents; not single Millennials.
The number of residential units– especially the "left-over" 329 units not built in Lakeside DFW and requested to be shifted south to the Lakeside Village– was discussed.
Council member Jason Webb asked why the 329 units are needed and Archie said that adding those units to the development population is needed to attract the office and commercial investors. Those investors, plus high-quality retail and restaurants look at population numbers– especially within a 1- and 3-mile radius. Compared to the three FM 2499 intersection northward, each anchored by a grocery store– The Village needs population density to grow.
Bryant was more-than-insistent that, while the towers have a maximum number of stories, a minimum number of stories should be written in the zoning. His persistence to set specific minimum limits, to avoid the "curse" of Southgate (without minimums set as development triggers for commercial usage prior to residential construction), was agreed upon by Archie, town staff and officials.
McDaniel agreed the Development Agreement should list the minimum occupied stories, if the economy "tanks" or if Realty Capital decides to sell the unfinished development, those minimum requirements will guarantee that the property won't be devalued.
Planning and Zoning Commissioners concerns included: clearer 177,000-square-feet of commercial specifics; specifics to manage traffic, with signage, to help drive traffic from FM 2499 to the restaurants; parking specifics; Phasing specifics; and, concerns related to eight-towers.
All the questions asked by residents, council members and commissioners were written down and shared with the developer– plus town staff and officials– in anticipation of the Planning and Zoning meeting on April 9, as well as the Town Council on April 16.
The applicant and staff on Friday provided responses to those questions.
Council member Bryan Webb said he regretted not including the commissioners in the October 2017 work session with Realty Capital. He said the project could be farther along in its process.
Finally, Bryant asked Dalton: "Are we ready for this to come forward?"
Town Manager Jimmy Stathatos added: "The 155-acres of this $1-billion project was really done back in 2012 and this is just an amendment to that."
"I wouldn't have put it on the agenda if I didn't think it was ready," answered Dalton.