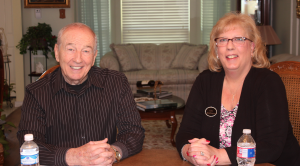 By Bob Weir
Well folks, we're wrapping up the interviews for candidates running for Flower Mound Mayor with Cathy Strathmann, a resident who has been very active in our community for several years. Since there will be 4 mayoral candidates on the May 5th ballot, and a candidate can't win with a plurality of the votes, it's possible that we may have a runoff election on a date that will be announced, if necessary. On the other hand, if a candidate receives 50% plus 1 vote, he/she will be our next mayor. My interview today is with Cathy Strathmann who provided the short bio below:
"I was born and raised in suburb of Chicago. It was home for 34 years and where I still visit family and friends. I will be forever grateful to my parents for making my childhood the best! I lived in the same house my entire childhood on a wonderful block with many children my age.
"Upon graduation, I was offered a job that would become the career I have loved. While having been employed with different companies, my position was always administration/management. My duties included oversight of personnel, budgets, inventory and government RFP's. It suited me well as I enjoyed the interaction with all departments and bringing all together to meet our goals. Toward the end of my career a family decision was made for me to start working part time and be close to home as children were coming to live with us. I enjoyed working with local realtors and gained tremendous insight to our Town's layout. My career taught me to be very goal oriented and organized.
"I currently serve on the ALSAC, Associates of Lewisville Senior Activity Center Board. I currently am and I have been a regular attendee and/or observer to the Town Council meetings, Planning and Zoning meetings and ECC Board meetings for the last 6 years. I participate in the Flower Mound Adopt-a-Spot program to help keep public areas of our town clean and beautiful. I attended the Citizen's Academy that the Town of Flower Mound offers all residents to better understand the Town's inner workings of our Town. I have met with the Town Manager to discuss their needs and concerns for the future. I was an active board member of The Mound Foundation & 4H organization. I have volunteered with Seniors in Motion, the Paralyzed Vets of America, & Soldiers Served with Heart. I have served as a local fundraising coordinator on numerous occasions for the Children's Miracle Network and the United Way. I was also involved in the PTA.
"I am married to my best friend Jeff, whom I met in kindergarten. After drifting apart for almost 30 years we found each other at just the right time in our lives. We share our home with 2 rescue dogs, Sammy and Bear. We love to travel and have a small RV so our 'boys' can come along." For more info on Cathy Strathmann, please check out her Facebook page: www.facebook.com/Cathy-Strathmann-For-Mayor-121549634900625.
Bob Weir is a former NYPD officer, long-time Flower Mound resident and former local newspaper editor.