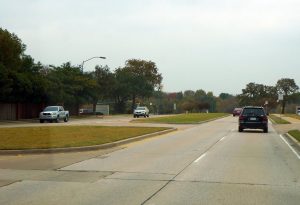 On Tuesday night, there was an all-too-uncommon event in the Flower Mound Town Council Chamber; harmony on how to solve a previously acrimonious issue for the good of the town and its residents.
The March 27 joint Town Council and Transportation Commission work session was held to create a list of priorities of best-options to solve remaining problems along the Phase II Morriss/Gerault Improvements Road project.
During Tuesday's joint meeting, the Stop Morriss 6 Focus Group provided a well-researched, objective, fact-based and concise presentation outlining possible problem solution options, with corresponding ramifications, for the remaining concerns. It was stunning.
If every town issue had such clearly-defined presentations, the various commissions and council members would have an easy-peasy job of reaching decisions.
The meeting also included citizen input, town staff and the attendance of Matthew Garrett, director of Safety & Security for LISD to learn how possible changes– specifically at Forestwood Middle School– can help correct congestion during drop-off and pick-up times.
The original point of contention was solved on Feb. 5, when the Flower Mound Town Council voted unanimously to keep Morriss Road a four-lane road from FM 3040 (Flower Mound Road), north to FM 407 (Justin Road).
Then, on March 5, council voted to lower the speed limit from 40- to 35-mph from Lake Bluff Drive north to FM 1171.
Original funding for the Capital Improvement Plan (CIP) comes from impact fees and Regional Toll Revenue (RTR), which has a remaining balance of approximately $400,000.
The Phase I section turned Gerault Road, from the intersection with FM 2499 northward through the Lakeside Business District, into three lanes each way up to the intersection with FM 3040, where it becomes Morriss Road. It began in 2009, was completed in 2011 and had minimal impact with few residential areas affected; not so for Phase II.
After the first phase was completed, town staff said that a water line– to address residential capacity needs– plus approximately one-half of the road panels' deteriorating concrete pavement need to be replaced. The proposal to add possible lanes to the existing four-lane arterial Morriss Road, at the same time to save money– past two schools and bisecting the residential-heavy area of town– brought swift citizen safety concerns and emotional, negative responses.
That was when the Stop Morriss 6 group, led by Kim Berg, began its nine-year campaign protesting lane additions, which was successfully resolved.
Opening the Stop Morriss 6 Focus Group presentation was Adam Scheistel with options for the new top priority– the best designation for Morriss Road, currently classified as a Major Arterial, as an Urban Minor arterial. The group is championing a designation as a Divided Minor Arterial, with Bike Lane Arterial as a second-place option.
"We want the engineers to be guided by the design of 'best vision' of what the road could be," he said.
Town Traffic Engineer Matt Hoteling endorsed both options as acceptable. Also introduced was the possibility of creating a split walking-bike trail sidewalk like the Katy Trail in Dallas in Flower Mound.
Scheistel also requested that the funding scheduled for the six-lane expansion be removed from the CIP and be transitioned to the improvement options, which was presented by Elena Johnson.
Among the options for easing traffic she presented were: adding a right turn arrow light; no left-turn at the Fuqua intersection during school hours; creating a double left-turn to go south on Morriss when leaving the school at Garden; and to work with LISD to swap bus and car lanes at Forestwood Middle School.
Town Council candidate Tony Lawrence added the idea of a possible roundabout– large enough to accommodate school buses– at the Garden intersection.
Presenting the Forum Group's safety suggestions for the section of Morriss Road north of FM 1171 (Cross Timbers Road), specifically related to pedestrian traffic in the area around Marcus High School, was Mary Strickland.
She suggested adding crosswalks at the Eaton and Kirkpatrick intersections, as well as improving existing area crosswalks, as well as extending the southbound left turn at Valley Ridge.
She also suggested specific safety improvements for all of Morriss Road: increased distance of the sidewalk from the road; adding electronic speed signs; curve warnings; and, nighttime reflective aids.
"If I had shown up at the last transportation meeting [in February] with the information I obtained at this meeting … I would have had more than enough information to make a decision on a designation change," said Robert Caput, Place 2 Transportation Commissioner.
The Transportation Commission's next meeting is set for Tuesday, April 10. The top priority Town Council as asked to be addressed is a Morriss Road classification designation recommendation for Planning and Zoning Commission's Monday, April 23 meeting.
"What I personally want from the Transportation Commission is all ideas to be talked about, solutions to be found and disagreements to happen and consensus to come from you guys," requested Councilman Jason Webb.
Deputy Mayor Don McDaniel agreed, saying: "Let the staff and council worry about the cost."
In a statement posted by Deputy Mayor Pro Tem Kevin Bryant following Tuesday's meeting, he wrote that the second priority for Morriss Road is addressing critical repairs.
"The panel replacement, the waterline work and ADA improvements will move forward. The entire budgeted cost of these projects is around $8.2 million. We can and probably will phase these in to maximize our dollars. The repair portion is why the entire Morriss project has not yet been removed from the CIP budget."
He added that Town Council has directed town staff to present a CIP Amendment removing the added lanes portion of the project, but retain the repair section.
"The designation sets the vision for the road," stated Strickland.
The Town Council is scheduled to hear the Planning and Zoning recommendations during its May 21 meeting.