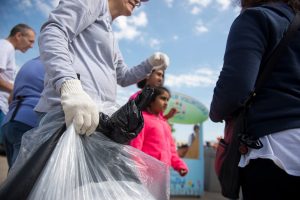 Keep Flower Mound Beautiful is preparing for its large event of the season, the Spring Trash Off and Spring Festival on April 7.
Keep Flower Mound Beautiful is a local nonprofit that partners with Flower Mound residents to beautify the community and preserve the town's unique natural environment.
The Trash Off event starts with registration at 8 a.m. in the Flower Mound High School parking lot, 3411 Peters Colony Road. KFMB will hand out supplies to volunteers and send them to various areas in Flower Mound — parks, trails, creeks, roadways — to clean up trash and recyclable materials. Volunteers then bring back their findings and KFMB will provide lunchand door prizes. Registration is available online.
The spring festival will run from 10 a.m. to 1 p.m. and is open to everyone, whether they participated in the Trash Off clean-up. It will include the Native Plant Society Trinity Forks Chapter yearly sale that provides a choice of many different native plant species. There will also be lots of other booths, including ones that will provide environmental education and kids activities, including a climbing wall, an inflatable obstacle course and Home Depot kids workshop.
All ages are welcome, and it is a dog-friendly event
Shred-It will be providing free document shredding to residents of Flower Mound
Best Buy will be collecting electronic waste
Christian Community Action will be collecting clothing and housewares and food for their pantry
Also, KFMB has discounted the price of its Classic Black 50 gallon Ivy Rain Barrel from $129 to $74.95 if ordered before 11 p.m. on Sunday, April 1. Those who order the rain barrels before the deadline will pick up their orders at the FMHS parking lot during the Spring Festival.
For more information, call 469-828-9074 or email [email protected].