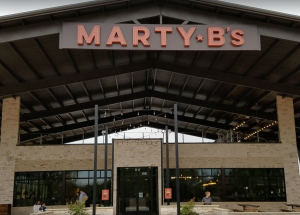 The owner of Marty B's in Bartonville is working to address concerns about how loud the live music is at the popular new eatery.
Some residents who live nearby, however, say it hasn't been enough.
Marty B's opened on Nov. 14 at 2664 FM 407, across the street from the Lantana community.  The 10,700-square-foot facility also has 6,700-square-feet of covered space, with an indoor/outdoor bar area, a rooftop patio for private functions and a stage area — which faces east towards Lantana — for live music.
Owner Marty Bryan of Highland Village said that before the restaurant opened he was "not at all" anticipating the biggest issue being the live music's volume, but performances every Thursday through Saturday night quickly drew complaints from nearby Bartonville and Lantana residents.
Some nights, it's like having a concert "in my house," said Evan Bloom, who lives in the Brazos subdivision of Lantana directly across FM 407 from Marty B's.
"It gets very stressful if the kids can't sleep," Bloom said.
Bloom said he moved into his home in August, a couple months before Marty B's opened, and although he was aware of the restaurant, he did not expect the music to be as loud as it consistently has been. He has considered "taking a loss on the house" to move away from the sound.
Bryan said he understands those concerns.
"I'll admit, sometimes it was too loud," Bryan said.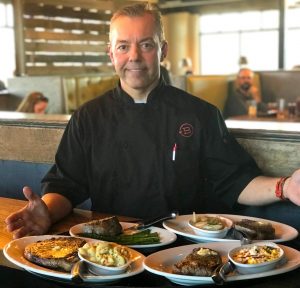 Bryan said he wants to "be a good neighbor and be respectful of friends and neighbors who live around the restaurant," so he hired a sound engineer to give recommendations about how to contain the sound within the venue. He's using the engineer's notes to take several steps to improve the sound experience, starting with removing some of the speakers all together.
Bryan installed a new, more sophisticated sound system that directs the sound toward the ground, rather than straight out. There is also a wall that faces east that was 6 feet tall in one part and 3 feet tall in the other part, but Bryan extended its height to 10 feet all the way across.
Those additions were paid for with a $36,000 grant from Denton County Development District #4 from sales tax revenue in Lantana.
Bryan also bought a Plexiglas drum shield enclosure to reduce the drum volume, and he built a 12-foot-tall structure for restrooms to block some sound. Last week, Bryan hired a sound company with a more sophisticated sound mixer and monitors that now give him total control of sound, he said.
"Now that I have 100-percent control, it's a lot better," Bryan said.
Bryan said he's also building a merchandise store that will encapsulate the patio area even more to better keep the sound in. He will also get acoustic panels to help reduce vibration and keep sound from traveling.
The music is usually 82-84 decibels inside the venue, Bryan said. It's not too loud for customers to have conversations, he said, even those near the stage. Bryan added that at times traffic noise on FM 407 has measured louder than his music.
He said music on Thursdays used to be from 7-10 p.m., but he moved it up to 6-9 p.m. during the school year. It's still 7-10 p.m. on Fridays and Saturdays.
When it comes to communicating with concerned neighbors, Bryan said he published his cell phone number on social media and has held three public meetings so far.
The music's volume is better now than when Marty B's first opened, Bloom said, but the bass guitar is still too much.
"You can feel the bass on the windows," Bloom said.
Bloom and Bryan have communicated since right after Marty B's opened, and while Bloom still wishes the volume would be turned down, Bryan believes he has made significant changes, and will continue to improve the experience.
"I feel I've gone far beyond the call of duty," Bryan said. "I'm not sure what more I can do. I've never promised I'd be able to solve it completely, but my mission is to do everything I can do to make it better."