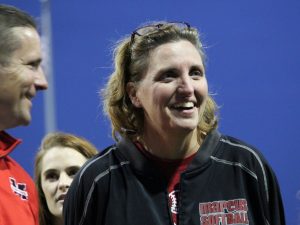 On March 9, the Marcus softball team celebrated two occasions.
The first is an anniversary of the Lady Marauders entering their 25th year of UIL competition in 2018.
The second, and perhaps even more important, is the honoring of coach Christy Tumilty, Marcus' one and only head coach, who has led the team to 10 postseason appearances during her tenure, including a trip to the state tournament in 2007.
Tumilty said it was difficult for her articulate just how much coaching the Lady Marauders for the last two and half decades has meant to her.
"When my career as a player ended, I was very fortunate to begin coaching here at Marcus when the program began in 1994," Tumilty said. "I love seeing my players succeed on the field. I get very excited over great plays and big hits, because I know how hard my players work, and I want that success for them. It is an honor to be their coach."
The feeling is certainly mutual, as the Marcus softball booster club organized the event with the program that Tumilty and her coaching staff have cultivated in mind.
"Coach Tumilty and the program have meant so much to so many over the past 25 years," Booster Club President Lori Dodson said. "It is definitely something we wanted to celebrate. We reached out to former players and asked that they join us that evening. Many shared their fondest memories and accomplishments from their times with the program."
One such player is Stephanie Owens, a 2000 graduate of Marcus High School and former short stop for the Lady Marauders softball team.
"I first met Coach Tumilty when I was in sixth grade at Milliken Middle school," Owens said. "She was my favorite teacher. I distinctly remember reminding her, probably every week, that I too, played softball…I remember her coming to one of my games at Lake Park, and how cool that was of her.
"I ended up going to Briarhill Middle School and then to Marcus High School, and then finally, getting to play for her. It was through her coaching, that I ended up receiving a softball scholarship to UT Arlington, along with Kelly (Rhodes) Dillaman, and Kristen (Blankenship) Noack."
Kristy Hundt, a 1997 graduate of MHS and former outfielder for the Lady Marauders, echoed Owens' sentiments and said Tumilty continues to influence her life to this very day.
"Coach Tumilty was a wonderful coach who helped me transition from a slow-pitch player to a fast-pitch one," Hundt said. "I had never played a day of fast-pitch until high school, and her patience and perseverance helped me excel as a left-handed batter—at least good enough to walk on to a national championship program at the University of Oklahoma. I would never have had the confidence to do that without her help. I still run into her around Flower Mound.
"She remembers me and spends time talking with me about my life and kids. I've always remembered how kind and humble she was then, and I can only assume that she is the same great influence on the girls in her program today."
The celebration took place prior to the start of the game against Hebron, and Dodson, whose daughter Kylee currently plays for Marcus, said it was a proud moment for the Marcus program to celebrate a quarter of a century of excellence.
"I love watching student athletes compete with sportsmanship, strength, and determination," Dodson said. "Coach Tumilty and her staff provide great examples for the players in order to develop these qualities. The softball program teaches so many other life lessons as well. Influencing so many in such a positive way over the last 25 years is definitely something worth celebrating."
Below is a list of the Marcus softball programs accomplishments since its inception in 1994.
2014
District 5-5A 3rd Place
Area Finalists
2013
District
Bi-District Champions
Area Champions
2011
Bi-District Champions
Area Champions
2010
Bi-District Champions
Area Champions
2009
District Co-Champions
Bi-District Champions
Area Champions
Regional Quarterfinal Champions
Regional Semifinal Champions
Region 1 Finalist
2007
Undefeated District Champions
Bi-District Champions
Area Champions
Regional Quarterfinal Champions
Regional Semifinal Champions
Region 1 Champions
State Semifinalist
Ranked #19 in the Nation
2001
District Champions
Bi-District Champions
Area Finalist
1999
Undefeated District Champions
Bi-District Champions
Area Champions
Regional Quarter finalist
1998
District Champions
Bi-District Champions
Area Champions
Regional Quarter finalist
1995
District Champions
Bi-District Champions
1994
Softball Inauguration at Marcus High School