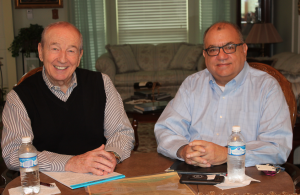 By Bob Weir
As we continue to provide background information on candidates for the Flower Mound Council, including their views on some of the most salient issues, it's important to note that Cross Timbers Gazette provides space for these interviews in order to keep residents informed regarding their choices in the May 5 election. Additionally, I post the links to these interviews on several social media platforms, not the least of which is Flower Mound Facebook pages. I'm not privy to any personal feuds between CTG and any FB administrators. All I'm interested in is the fair and impartial reporting of significant happenings in our town. Information on those who seek election to the governing body of this town is very significant indeed.
With that in mind I'll continue to post the links in accordance with the instructions provided to me by individual Flower Mound FB page administrators. For example, if the YouTube video is the only link allowed on a certain page, I'll comply because I don't want the candidate to lose out on the exposure provided by that media site.
Today's interview is with former Councilman Paul Stone, aka, "Citizen Stone." For decades, Paul has possibly been the most active member of the Flower Mound community. The following is from his campaign Facebook page:
"Most of you know that I have lived in Town for over 27 years and most of that time I have been active in community and governmental activities. I have included on this page listings of my governmental, community, leadership, and philanthropic activities. As I have done in the past when seeking office, I am also including copies of my past three years tax returns in addition to a personal financial statement. I HAVE NOTHING TO HIDE!
"As part of my campaign, I want the voters and citizens to understand that I am NOT running against anyone. I am running FOR the office of Mayor. As such, I will not engage in negative campaigning and I hope that all other candidates will pledge the same. Please rely only on this Face Book page to find or ask how I stand on issues or to ask me questions. I will not be posting or commenting on other sites as some individuals may have blocked me and I cannot follow their threads totally. BTW until now, I rarely post on Face Book and most of my comment history has been wishing friends Happy Birthday. If we haven't met, look for me at public venues. I'd like to shake your hand and listen to what you have to say." For more info on Paul, click on: www.facebook.com/Paul-Stone-4-Flower-Mound-Mayor-166977047268019
Bob Weir is a former NYPD officer, long-time Flower Mound resident and former local newspaper editor.