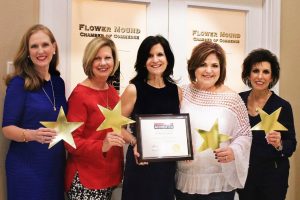 Earlier this month, the United States Chamber of Commerce awarded the Flower Mound Chamber with 4-star accreditation for its sound policies, effective organizational procedures and positive impact on the community, according to a news release.
"Business leaders are a critical voice in conversations about promoting economic growth and job creation in their communities." said Raymond P. Towle, U.S. Chamber vice president of Federation Relations and Institute for Organization Management. "Accreditation honors a chamber's work to enhance the quality of life for its members and its region."
Accreditation is the only national program that recognizes chambers for their effective organizational procedures and community involvement, according to the news release. In order to receive accreditation, a chamber must meet minimum standards in their operations and programs, including areas of governance, government affairs and technology, a process that can take six to nine months to complete.
"It is a tremendous honor to receive four-star recognition from the U.S. Chamber," said Spencer Turner, the Flower Mound Chamber Chairman of the Board. "The credit is due to the outstanding volunteer business leadership we enjoy, talented professional staff, and the support of our entire community. We are looking forward to continuing to serve this community we love at the highest possible level."
Local chambers are rated Accredited, 3-Stars, 4-Stars, or 5-Stars.
The U.S. Chamber of Commerce is the world's largest business federation representing the interests of more than 3 million businesses of all sizes, sectors, and regions, as well as state and local chambers and industry associations.