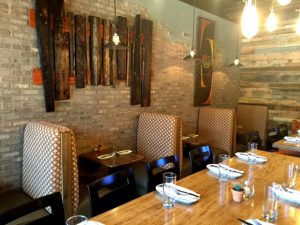 Savory Bistro Gourmet To Go in Bartonville Town Center closed its doors for good on Friday, March 23.
The locally-owned restaurant focused on serving fresh, unprocessed gourmet meals.
Annette Doody and her husband, Glen, along with their son, Neil, started the business five years ago with a goal to create "culinary delights that make customers feel good while allowing them to live well."
The family expanded their restaurant to include a new bar and lounge area, as well as a larger patio space, in late 2015.
"We had several years of success and the journey has been great. In the last few months, we've come to realize that the competitive landscape in the restaurant industry has become a challenge that would not allow us to continue as a successful, small, family-owned business," said Annette Doody.
The news came as a shock to the restaurant's regular customers, including Jim Bridges, a loyal Savory patron and fellow business owner in Bartonville Town Center.
"I am deeply saddened by the fact people I care about have closed a place our community needs," said Bridges.
Bob Williams, CEO and founder of Ranch Hands Rescue Counseling Center and Animal Sanctuary, echoed Bridges' sentiments.
"Glen and Annette are two of the kindest people I have ever met. They raised a lot of money for Ranch Hands Rescue. Last year we started a scholarship in their name to provide counseling services for a child who had been sexually abused and needs our help. We will continue to fund that scholarship in their honor as a way to thank them for all they have done," said Williams.
"The closing is a huge loss for our community and I hope and pray that Glen and Annette will have complete success in whatever they choose to do moving forward."
Annette said that she will be continuing her work with clients on her wellness programs and will be launching new programs to further the work that the Savory Team has started.
"We want to thank our loyal customers and our neighbors for their support over the past five years."