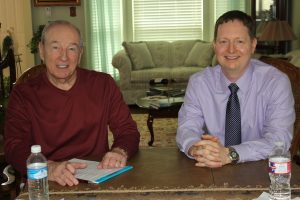 Now that the interviews for candidates for Town Council Places 2 and 4 have been completed, we can move on to the race for Mayor.
With Mayor Tom Hayden leaving, due to term limitations, we have an open seat and an unprecedented four candidates running for the office. Steve Dixon, Paul Stone, Cathy Strathmann and Bill Robinson are all vying for the top spot on the May 5 ticket.
In the video interview below, Bill Robinson talks about the financial status of our town and some of the issues he feels are significant going forward. The following bio was sent by Mr. Robinson:
"I was born in Omaha, Nebraska and then raised in Loveland, Colorado. After graduating from Colorado State University in 1999 with a degree in finance, I've spent my entire career in some realm of real estate. I began working with a manufactured home business in Colorado as an accountant before relocating to Texas in 2001 as an analyst for a multifamily company in Las Colinas. I then joined a homebuilder in Addison, employed as the Vice President of Finance for over a decade. Presently, I'm the CEO of Bridgewater Homes, a company I founded several years ago with a business partner in Colorado, where we build homes in the Northern Colorado area only. We have our main office in Colorado for all of our operations, and a small office in Parker Square where two others and I can work out of remotely.
"I moved to Flower Mound three years ago and live with my wife (who has lived in Flower Mound since 2000), our three children and our two little dogs. While I may not have lived in the area as long as most, I plan on being here the rest of my life, so I'm trying to do what I can to provide what services I feel I'm best suited at and give back to the town. I believe we can operate in a much more effective and efficient way economically as we continue to move in to the future of Flower Mound."
For more info please click on: www.billrobinsonformayor.com.