Chris and Jennifer Mattingly share a great many things; from their childhoods in East Texas to their two daughters to being principals next-door to each other's campuses– Briarhill Middle and McAuliffe Elementary Schools in Highland Village.
"I grew up in Edgewood– about nine-miles north of Canton–and there were 37 of us in my [high school] graduating class," said Chris. His Bachelor's Degree in English is from Texas A&M, with his Master's from University of Texas-Tyler.
Jennifer is originally from Carthage, approximately 50-miles from Nacogdoches, where she graduated in Public Relations and Journalism at Stephen F. Austin University (SFA).
"I graduated on a Saturday and started teaching at Tatum High School on Monday," she said. "I taught English 1-4, journalism, did the yearbook and newspaper, plus coach the cheerleaders."
In December 1991, as Chris was being taken on a tour of the school at which he'd been hired to begin teaching, he was introduced to Jennifer in the teachers' lounge. The two were the junior class sponsors and even planned the prom.
"We met on Dec. 19, 1991 and were married a year later, on Dec. 19, 1992," said Chris. "No one knew we were dating, except one student, who was a cheerleader and I coached her in basketball, so she was close to both of us. We named our first daughter after her."
Their daughter, Molly, 20, is a sophomore at Ouachita Baptist University in Arkadelphia, Arkansas and younger daughter, Riley, 17, is a senior at Marcus High School. Both girls attended McAuliffe and Briarhill.
The Mattingly couple moved to Lewisville after two years teaching at Tatum.
"I'd taught about three weeks and saw what the Assistant Principal did," Jennifer said. "He got to meet and talk with people and bring buttered rolls for us in the teachers' lounge and that looked like a pretty good deal."
She began her Master's Degree at SFA and finished it at UNT.
"Chris said he'd stay in the Lewisville area for three years and then he wanted to move back to East Texas," she said. "We always said we'd head back to East Texas when we were ready to begin a family. We quickly realized that we had found our home in LISD; and, LISD is family. That was 24 years ago."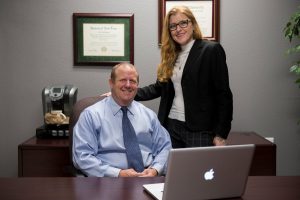 Chris worked at Millikin (now Delay) Middle School and she was at Lamar Middle.
"When Briarhill opened, Superintendent Buck hired us to team-teach about 80 kids in 1995-96," she said. "That was really fun."
Chris served as assistant principal at Marcus High School for 10 years, before becoming principal at Briarhill.
On the school's website, Chris writes: "Here at Briarhill, students are able to participate in strong academic programs, as well as a variety of clubs, sports, and organizations. There is something for everyone and we want our students to enjoy learning and growing in the time they spend here with us."
Meanwhile, Jennifer served as an assistant principal at Heritage then McAuliffe Elementary Schools for 13 years, before becoming principal at McAuliffe for the past 13 years.
"Our McAuliffe home celebrates 2017-18 as the thirtieth year that our little school has proudly served the Highland Village community," writes Jennifer on her school's website. "We will recognize our heritage and celebrate throughout the year with the theme 'Launch: We're Outta This World.' We hope you will find the same home that we found!"
Jennifer said an annual tradition for both their own family and their student family began when Molly was entering the sixth grade. As a mom, she wanted to take photos on the first day of middle school, but as the principal of the school Molly was leaving, Jennifer couldn't go to the new school.
As a solution, Jennifer, Molly and some of her close friends and their parents all met at the McAuliffe bike rack for pictures and then walked mid-way to Briarhill, where Chris met the group at the Kid's Kastle Pavillion in Unity Park for a handoff to continue up to Briarhill.
"It started as a small thing for our family and now it's grown into about 100 students and their parents," said Jennifer, adding that the Mattingly's experience of growing up in small towns has been a factor in the close-knit feeling their student's experience.
"A guy I coached in Briarhill has moved back to have his kids go to our schools," said Chris.
Jennifer added that the Marcus High School students come to both McAuliffe and Briarhill for mentoring projects and service hours. She said former students drop in at least once-a-week.
"It's an honor for them to choose us," she said. "It's like the circle of life."