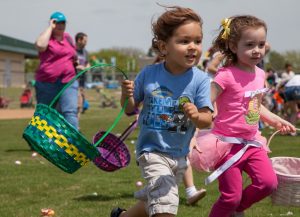 Southern Denton County kids have no shortage of Easter Egg Hunts and other fun Easter-related activities between now and Easter.
See local Easter events in Argyle, Double Oak, Flower Mound, Highland Village and more in the list below.
Argyle
March 24 – Breakfast with the Bunny from 8–10:30 a.m. and Easter Egg Hunt from 10:30 a.m.-1:30 p.m. at Argyle Community Park next to Argyle Intermediate School. 940-464-7273.
March 31 – Family Easter Worship and Egg Hunt from 5 to 7:30 p.m. at Argyle United Methodist Church, 9033 Fort Worth Drive. Activities include: bounce houses, obstacle courses, face painters, food, DJ and more. www.argyleumc.org/events. 940-464-1333.
Double Oak
March 24 – Double Oak Community Pancake Breakfast and Children's Egg Hunt from 9 to 11 a.m. at Double Oak Fire Station and Town Hall Park, 320 Waketon Road. www.doubleoakwomensclub.com.
Flower Mound
March 24 – 35th Annual Easter Egg Scramble from 1:30 to 3:30 p.m. at Jake's Hilltop Park, 4975 Timber Creek Drive. Free event. Activities begin at 1:30 p.m., and the Scramble begins promptly at 2:30 p.m.
March 31 – Underwater Easter Egg Hunt from 10 to 11 a.m. at the Community Activity Center Indoor Pool, 1200 Gerault Road. For ages 3 to 12. Fee: $5 members, $6 non-member. Activities include a visit with the Easter Bunny, arts and crafts, and games. Pre-registration is required.
April 1 – Easter Sunrise Service on the Mound at 6:30 a.m. www.summitclub.org.
Highland Village
March 24 – Highland Village Easter Egg Hunt at 10 a.m. at Unity Park, 2200 Briarhill Boulevard. Includes a visit with the Easter Bunny, bounce houses, fire engine and face painting. (Rain date: March 31.)
March 30 – Easter EGGstravaganza by Elevation Church from 5:30 to 8 p.m. at Doubletree Ranch Park, 310 Highland Village Rd. Easter egg hunt starting at 6:30 p.m., bounce houses, games, food and more. All proceeds to benefit Elevation Church's youth mission trip to Rockport, Texas for hurricane relief. Call 502-381-2717 or www.elevationchurchtx.org/events.
Lantana
March 24 – Lantana Easter Egg Hunt & Diaper Drive from 10 a.m. to 12 p.m. at Lantana Golf Club, 800 Golf Club Drive. Free event, but diaper donations to YoungLives is appreciated and raffle tickets will be given for each package of diapers donated. www.shimalarealtygroup.com/events.
Other Areas
March 24 – Annual Funny Bunny Festival from 9:30 a.m. to 12:30 p.m. at Lone Star Toyota of Lewisville Railroad Park ballfields, 1301 S. Railroad Street, Lewisville. Three different egg hunts will be held from 10:30 a.m. to noon, with other activities including a petting zoo, carnival games, and pictures with Mr. or Mrs. Funny Bunny. 972-219-3401.
March 31 – 2nd Annual Kids and Tailwaggers with Woofapalooza and Easter Egg Hunt from 10 a.m. to 5 p.m. at Sycamore Bend Park, Lake Lewisville in Hickory Creek. Easter egg hunt begins at 10 a.m. Includes activities for kid's and canines. www.kidsandtailwaggers.com.