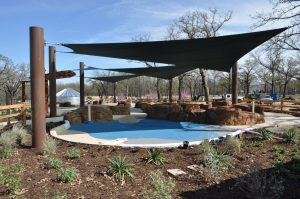 A Flower Mound park is getting close to opening a new splash pad.
The Flower Mound Parks and Recreation Department shared on its Facebook page this week photos of the new splash pad at Heritage Park, which is a major part of the town's renovation project of the park, which began in 2011 and is not yet done.
The splash pad will be the highlight of a grand opening at Heritage Park, 600 Spinks Road, currently planned for April 29. It is part of third of four phases of park renovations.
The Phase 1 amenities included a pavilion, restrooms, Fort Wildflower Playground, an entry monument, amphitheater pad and major parking lot spaces of about 15 acres.
Phase 2 was divided into two sections: A– included the Hound Mound dog park and related features with approximately 10 acres of total amenities; and, B– the pond and boardwalk up front, a waterfall, 11 picnic stations and related parking for approximately five acres.
Phase 3 has the splash pad, a dry creek bed, bio-swales and shade structures.
At a recent Town Council meeting, Parks and Recreation Director Chuck Jennings presented details for the Phase 4 project, which include: a trellis shade structure, five wildflower-mix seeding stations, a nature observation platform, a sundial entry circle with an entry sign, a Wildlife Encounter area and an 18-basket Disc Golf Course with a map, trash receptacles and benches, as well as three culvert crossings and a low-water crossing along the trail.
Construction on Phase 4 is set to begin in April with an expected completion in November.